Oh, how I wish I'd run out of things to write about around here . . . .
No such luck.
I'm sure it started with one little thing thrown into the laundry room just before the doorbell was supposed to ring. Then another thing and one more. And then, since it was a "junk spot" anyway, other random things that didn't have a home got dumped there.
Which meant that even the things that WERE supposed to live in the laundry room got dumped on top of the pile.
Blech.
After months of full-body contortions needed to load and unload the washing machine, I finally took an HOUR and cleared the floor.
My goal? Be able to stand in front of my washing machine. Y'know, like Normal People do.
I started with the easy stuff. More specifically, trash.
Things like nasty tennis shoes three sizes too small, packaging from things that actually do get stored in the Laundry Room, and a reading log from the library program.
The library program we didn't attend even once this year.
Which means that piece of paper is AT LEAST a year old . . .
Then I moved onto the next phase of Easy Stuff. The things that needed to be put away. Things that have a place but somehow ended up tossed (literally) onto the floor.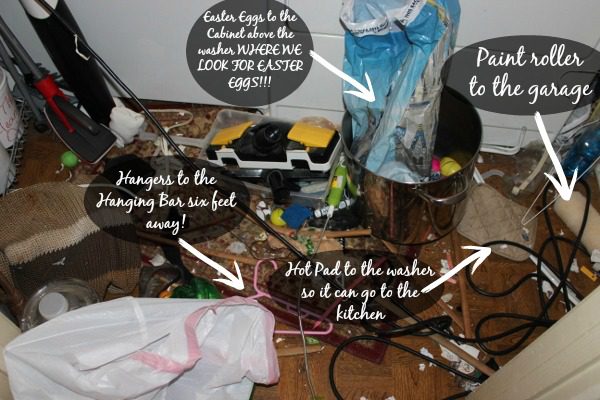 Ugh.
And finally, I'd worked my way down to the floor.
The dirty floor. Right. I've had to give up the delusion that it's possible to be a Clutter Slob without being a Dirty Slob.
Dirty lives under clutter.
In less than an hour, I was living my dream.
My dream of NOT having to load the washing machine while balancing with one arm on the washer and one leg up in the air.
I dream big, people.
--Nony