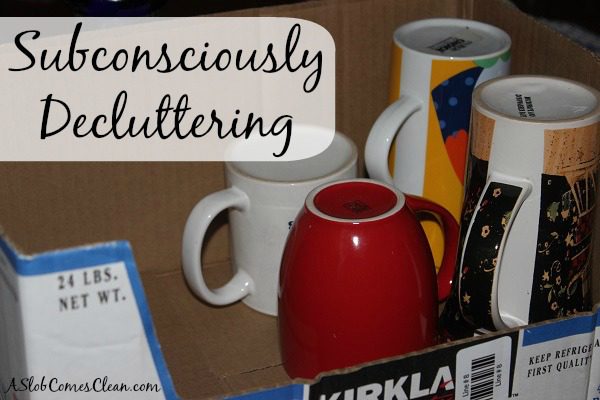 When it was time to dye Easter eggs, I headed to the coffee cup cabinet.
We had five colors, so I chose my five least favorite coffee cups to hold the colored water.
As I pulled those coffee cups out of the dishwasher on Monday morning (we didn't have time to dye eggs until Sunday afternoon), I realized  each cup was chosen because there was something about it I didn't like.
One cup was an advertisement for something I don't love.
The red one should have been perfect, but came with a little sticker that said it causes cancer in California.
So I never drank out of it.
Not even one time.
Even though I don't live in California.
I never drank out of it . . . but kept it for three years.
Ugh.
The two big ones are too big.
While I'd love to sip that much coffee, I can't. I'd be jittery all day.
I realized that even though I hadn't meant to declutter, I had sorted out the five coffee cups we never, ever use.
Which made me wonder why we even had them.
So I grabbed a donate-able Donate Box and stuck them in it.
Note: I decluttered four cups even though I used five for dying eggs. The fifth could totally go, but it belongs to a family member who left it at our house. The thought of her wanting it back stopped me. She probably has no idea we have it.
Another note: If you've been around for long, you know about Hubby's obsession with coffee cups. I showed him the Donate Box and he agreed (after a few pensive moments) that those four cups could go and we wouldn't even miss them.
Note #3: I didn't need to apply the One Year Test to these since I can use more-loved coffee cups to dye next year's eggs.
Save
--Nony