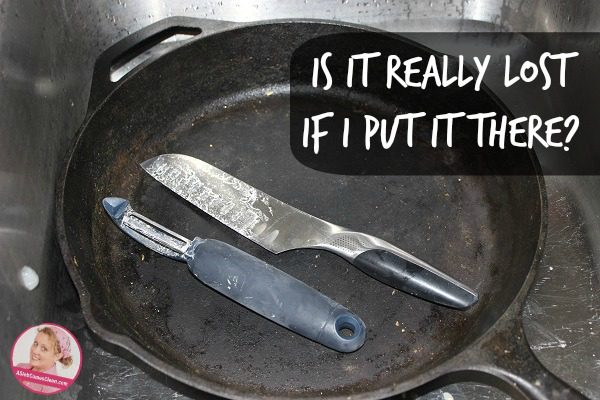 Recently, I'd been missing my cast iron skillet.
And my favorite medium-sized knife.
Oh. And my potato peeler.
All of these are things I use all the time, but I had NO idea where they were for at least several weeks.
Since I do have another skillet, and a bigger knife will do, I just managed.
I was pretty irritated to have to peel potatoes with a knife, though. Barbaric.
But as I tend to do, I just went on through life. Making do with whatever I happen to have.
Until one day, as I performed the now-rote task of reaching under the sink for a dishwasher tablet . . . I thought I caught a glimpse of something.
Waaaayyyy back in the back. So I contorted and twisted and reached waaaayyyyy back and pulled out . . .
My cast iron skillet. Ohhhhh. That's right. Sometimes, when the dishwasher is full-to-capacity and already running and it's time for the doorbell to ring, I shove extra dirty dishes under the sink.
And then (obviously), I forget about them.
I can't even blame it on the fact that the skillet is black and was hidden in the shadows, since once I looked around, I saw my favorite knife and my peeler right there in the very front, not hidden behind anything at all.
Hmmmph.
--Nony