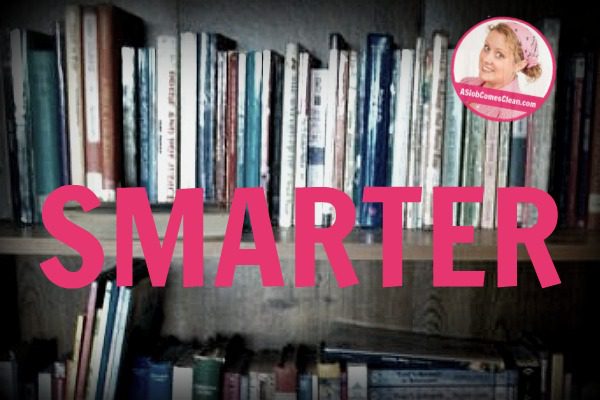 I've been debating with myself over this post.
I'm not sure if I'll actually finish it, or if it will sit in "Drafts" like some others do. If you're reading it, then I published it, and you'd better be ready for some pretentious, likely-delusional self-examination.
This is mostly about me, but it's something I realized while looking in that lovely (and irritating) thing I call the Parenting Mirror.
That moment when you suddenly recognize your own frustrating qualities because you see them in your child? That's the Parenting Mirror.
I'm going to try to be ambiguous since there are people who read this blog and actually know my children.  I never want to write anything that would embarrass them.
My kids are smart.
I know. All moms think that.
But there's this particular one who walks into any room and assumes he's the smartest one in it.
Many times, he is.
Unfortunately, he's also the one who serves as my most crystal clear Parenting Mirror.
Right. I'm saying I assume I'm smarter than most people. Not consciously. I'm not THAT big of a jerkface. I'm saying that I've realized this since watching "this child" whom I love so much.
So what does this have to do with cleaning?
Well . . .  a lot, I'm realizing.
First, let me say that once upon a time in college when there was discussion of my pigsty dorm room, someone spouted off a bit of trivia that I latched onto and savored.
"Messiness is a sign of brilliance. Albert Einstein was messy."
I had no idea if this was true, but I desperately wanted it to be.
(I just now swagbucked it, and guess what? It IS true. See pictures of his work space (as well as Steve Jobs's and Mark Twain's) here. )
Now before I begin pontificating, let me state that not all brilliant people are messy. They're not.
But a lot are. And I do believe there's a relationship.
Here's what I've observed through my Parenting Mirror recently: Certain personality types who assume they are completely capable of figuring out a better solution than anyone has ever figured out before have a hard time getting things done that are simply . . . mundane.
There has to be an easier way to keep my bed made than . . . making it every day?
There must be a better solution for a constantly messy kitchen than . . . doing the dishes?
Surely there is a better way to keep laundry under control than washing, drying, folding AND putting it away! How monotonous!
I'm not sure where exactly I'm going with this post.
I'm not Einstein. I'm a mother of three and wife of one and my main job is running our family. The tunnel-vision tendencies I share with those certifiably brilliant people won't result in something history-making, so I can't justify letting my home fall into shambles for the sake of my work.
My home is my work.
As I look into that Parenting Mirror, I see how much harder it is to look for an easier way instead of just doing something the OBVIOUS way. It's crystal clear when I see a child I love making something harder than it ever needs to be.
Here's the thing. As I've gone through this deslobification journey, I've figured out how to wrap my brain around, to understand and explain, concepts that already existed. I now understand the logic and reason behind doing things the way women with clean houses have been doing them for . . . . well . . . ever.
And now I'm going to go there: Isaac Newton "discovered" gravity, but people had been using gravity in their every day lives forever. They didn't need to understand it. They didn't care about planets orbiting, they just knew that if they poured water from a pitcher it flowed down. Into a cup.
Duh.
But he needed to know more. Thankfully, he put his mind to it and we've all benefited from his passion to figure it out.
Here's hoping my family will benefit from my desire to figure this all out. My discoveries may not be worthy of being published in a scientific journal, but it sure is nice to have clean undies.
--Nony