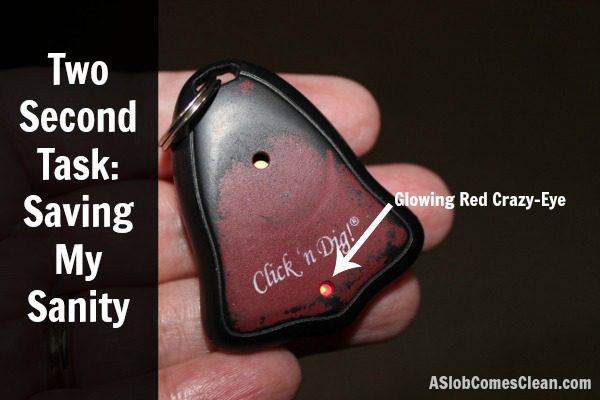 A while back, I wrote a review of the Click 'N Dig Key Finder System.
I . . . love . . . my . . . key finders.
But recently, one by one . . .  they became possessed.
Randomly beeping. Clicking. Never being quiet, even when hidden in a drawer or shoved under a pillow or banged impatiently against the table.
This went on for weeks.
Hubby was the first to give up on his.
I held in there.
Yes. They were crazy. But they still came through for me when I lost my keys. (Like, daily.)
(Fine. Three times daily.)
But when Hubby took it upon himself to remove the crazy, red-eyed key finder from my Suburban keys . . . things started really going down hill.
He claimed he couldn't take the beeping and clicking and chirping anymore.
I found myself in tears every time I couldn't find my keys!!
(Which was every time I needed my keys!)
And then I thought, "Oh yeah. The package came with extra batteries. I wonder . . . "
So I dug through the pile that I knew contained the box with batteries, and a whole three minutes later . . . my beloved key finder was resting peacefully. Only beeping when I pushed the button.
(The button that hangs from the totally-logical key hook by the back door. The key hook where my keys never are.)
Seriously. Why do I go through so much angst when there's a (pretty much) two second solution?
And now for your convenience (in case you're a key-loser as well . . . ): affiliate links. You can go read the review I wrote, or you can go straight to the key finder on Amazon here.
_________________________________
And while I'm throwing around Amazon affiliate links, you should totally go grab a copy of my friend Liz's cupcake e-book, Cupcakes! 12 Months of Happiness, which is free on Amazon today!! at least it was when I wrote this post. if not, you may find another choice that's just right for you!
Save
Save
--Nony