Another Decluttering Guest Post! I love seeing your projects!! I especially love how Andrea from The Distracted Housewife used my Decluttering Questions to tackle this overwhelming task!
My desk. It's been a continuous eye sore in my life ever since I was a little girl. Time after time, I have vowed to get my desk into a useable state.
Yet, time after time it ends up piled with a variety of items.
My current desk was no exception. I had it loaded up with clothes, unfinished crafts, notebooks, and photos with absolutely no useable surface to be seen. Even the chair had been rendered un-sittable with clean-ish clothes. Without a doubt, it was finally time to get the desk cleaned up. After going through this clean up process time and time again, I knew I needed to take a different approach. With that I made the decision that the only way for the desk to get even somewhat clean on a regular basis, was if I did a massive decluttering.
I am ashamed to admit that I started the task with no real plan in mind. I quickly found myself piling things in vague categories on my bed with no clue as to where the things would go once the desk was clean. Inevitably, I became overwhelmed as the piles multiplied like the Blob and I realized most of the items had ended up on the desk because they had no home in the first place.
Meaning, once the desk was clean, all the homeless items would end up back on the desk. The desk would then quickly spiral back into its former state of crisis.
A change in strategies was just what I needed. So, I decided to give the Nony method of cleaning a shot by addressing each item right away. Every time I picked something up, I determined if I really used and liked the item. I am ashamed to admit that way too many things I had been saving didn't make this cut. The items that I deemed "keep worthy" were immediately relocated by asking myself the question "Where would I look if needed this?"
This worked so much better than having a "put away pile" because, who actually puts away the things they put in a "put away" pile?
Oh wait, normal people do that! Normal or not, the Nony method works wonders. †Although some of my items ended up in odd locations, I †now know exactly where they are.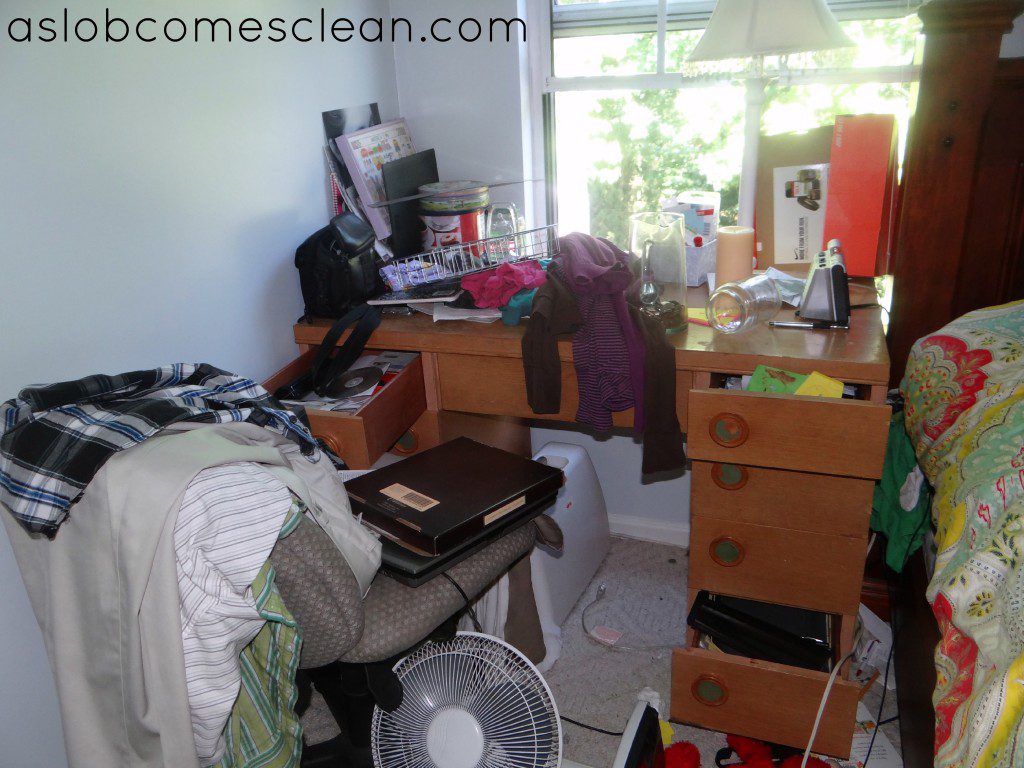 After the initial declutter, I assessed everything I had deemed "keep-able" one more time. Consequently, I decided to part with a few more things, as they hadn't been used or worked on in years.
With an empty desk, and a clean slate, I took on the task of putting things back in the desk item by item. I knew I wanted to keep the desk surface as clear and open as possible, in hopes it would discourage me from putting any clutter back on the desk. The only items I allowed to stay were a lamp, an alarm clock, an incoming mail basket, and a basket for pens and scissors.
Next came the drawers. All too often in the past I have happily shoved anything and everything in the drawers to get them out of sight.
Of course, this resulted in me pulling everything out when I was looking for one thing or another. Did I clean it up when I was done? Heck no! We've already determined I am not normal and only a normal person would clean up the mess when they find what they are looking for.†So, in an effort to keep this from happening again, I hijacked some of my kid's construction paper and lined the bottom of the drawers.
I spent a short amount of time organizing the kept items atop the paper. When I was happy with the way things looked, I took a sharpie and divided the sheets up marking where each item belonged. With this method, I no longer throw everything in the drawer. Since everything has a labeled place inside the drawer, it hurts my un-normal brain to throw something in where it obviously doesn't belong.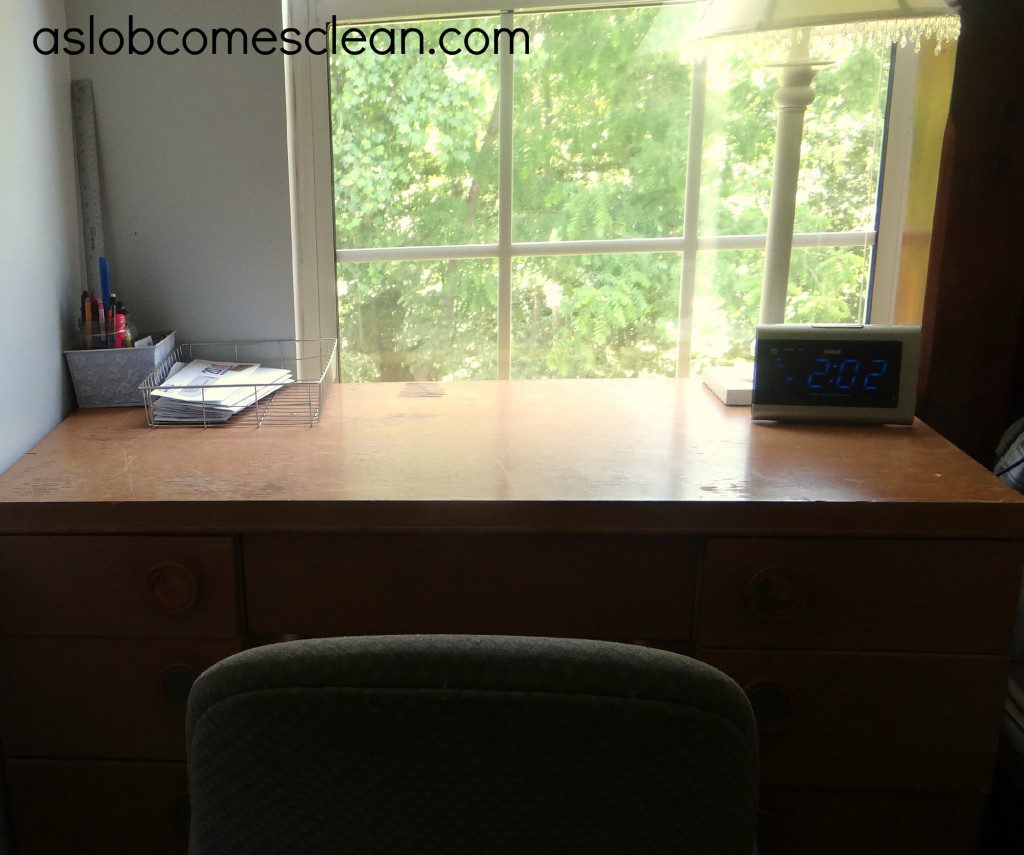 I can honestly say the Nony method has worked for me.
It has fit perfectly in my distracted brain. Living such a distracted life has made this desk (and many other areas) fall victim to clutter. However, getting the item put up quickly and efficiently has allowed me to get it out of my hands, and where it belongs before my son eats another tube of toothpaste.
Since starting a blog, I have been a drifter. Writing wherever there was enough space for me to squeeze my laptop.
Now that my desk is free of clutter, I have a dedicated place to work. Things are where they need to be, leaving me with an open, organized work place. Which means a lot for a distracted housewife.
Andrea shares about her journey to get organized despite the many distractions along the way at The Distracted Housewife where she blogs about building a routine and making an agenda, revamping her son's closet while her kids eat toothpaste and throw keys down the john. (So sorry, Andrea is no longer blogging.)