Pssst, this is a sponsored post. But it also contains a story about my teenage years and some good info that I'm happy to share. Just trying to be all legal-ey and let you know!

I have a long (and unhappy) history with allergies.
When we were teenagers, if I was excited about going on a date or seeing someone I hoped to one day go on a date with, Normal Friend would ask me if I had taken my allergy medicine.
She didn't even try to be nice about it.  She felt it her friend-duty to remind me that I'm a Scary-Looking Monster Woman when I have a bad allergy attack.
She's right.
I know a thing or two about allergies.  And I know the best way to prevent the Scary Monster Days is to stay on track with daily allergy medicine during allergy season.
Before my nose begins to run and my face swells up and my eyes start pouring water.
Otherwise, I'm stuck in bed, catatonic, wearing a wet towel over my face and breathing through my mouth.
Really. It isn't pretty.  And the absolute worst is when I can't stop everything to wallow in my nose-blowing misery, but have to work through the dripping and sneezing and itching.
If I'm planning a party in the spring, part of my preparation is consistently taking my daily allergy medicine to prevent being bed-ridden on the day when I need to do last-minute cleaning.
So when this opportunity came up to check out a new site by Allegra and CVS called MyAllerGenius.com, I was happy to do it. As a life-long allergy sufferer, Allegra has become my favorite allergy solution. If I take it consistently, I stay sneeze-free, and it doesn't turn me into a Zombie.
(Because Zombies aren't very good at last-minute cleaning either. I know this.)
My favorite thing about this whole thing is the text alerts. Since I have unlimited texting on my phone, I signed up with my zipcode to get a text alert whenever the pollen count in my area is high.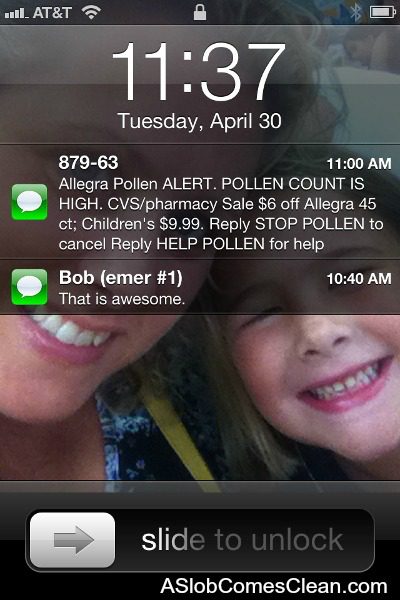 Right now, it's high.
This has helped me (as a scatter-brained mama) to be sure my son is staying consistent too since his allergies are slightly different from mine.
At Allegra's new microsite, you can sign up for the text alerts and also get access to coupons.
I was a little disappointed that I couldn't access the coupon on my phone so I wouldn't have to print it, but it was worth it to me to use a printer for a four dollar coupon.  (I'm spoiled now that I know a phone screen can be scanned!)
I headed to CVS with my not-sick-but-not-past-the-24-hour-mark dancing girl.
I may not be an avid couponer anymore, but my disappointment at the "Out of Order" sign on the magical coupon machine was intense.  Thankfully, the 30 count rang up at 17.99, less than the 20.95 that was marked on the shelf.
So now I'm good to go. I'm ready for my daily allergy maintenance AND I have the reminders magically showing up on my phone to keep me from drifting through life only to be WHAMMED by a Scary Monster Allergy Attack.
Just so you know, certain unidentified evil allergens still break through on occasion, but that happens MUCH less often when I'm consistently taking Allegra.
You can see my whole purchase experience here.
At Allegra's My AllerGenius site you can sign up for the text alerts (standard text rates apply), download a coupon, get tips for managing your allergies, and play an interactive beauty game.  (Though I must say, the beauty game/app's version of looking bad when you have allergies simply doesn't compare to my reality . . . )
They're also having a Twitter party on May 14th from 1-2 p.m. EST. You can RSVP here and follow Allegra on Twitter.
I am a member of the Collective Bias®  Social Fabric® Community.  This shop has been compensated as part of a social shopper insights study for Collective Bias®  and ALLEGRA® #cbias #SocialFabric The opinions, experiences, scary allergy-eyes, and dancing daughter are my own.