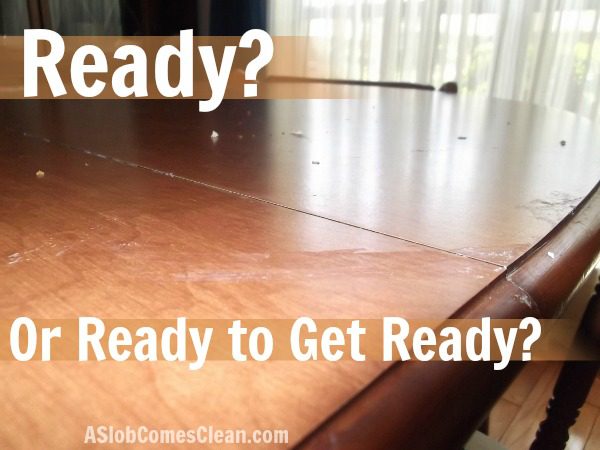 That picture is of my dining room table on Monday afternoon.
The day before, I cleared it of all "stuff" so it would be ready to be used Sunday night for our church's home group that meets here.
I cleared it, I wiped it off, and I was done.
People brought food, and obviously bits and pieces and smears got on the table.  It happens.
But in my mind, I was still done.
One of my goals is to be unembarrassed if someone stops by unexpectedly.  That doesn't mean my house has to be perfect all the time, just sans undies-on-the-living-room-floor or piles-to-wade-through-to-get-inside and such.
I want to be ready.
So the fact that we cleaned up the house on Sunday afternoon meant it looked pretty good overall.  We don't need long to make a mess, so it wasn't perfect, but it was unembarrassing.
But often, when I think I'm "ready" I'm actually just "ready to get ready." 
That table was dirty.  (I knew it was smeared with cheesecake, not snot, but the average stopper-byer wouldn't know that.)
But I subconsciously assumed that it could wait. That if someone was coming to my house,  it would only take a second to wipe it down.
Except that sometimes I don't have a second to expect the unexpected.
Monday, I did know that someone was coming by at two o'clock.  I just forgot.
So when I opened the door, being ready to be ready wasn't good enough.  The check that needed to be signed, it had to be signed on the dirty table.
Don't get me wrong, she was nice.  And honestly probably didn't care one bit that my table was dirty.  But it hit me that to truly call myself "ready" I need to go ahead and take that second to wipe down the table when it doesn't matter.