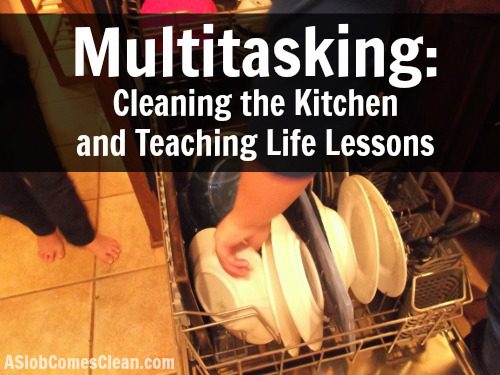 Here's a big part of our parenting philosophy:
We do our best to not be blatantly unfair in how we treat our children, but we rarely go out of our way to change unfair situations that happen to our kids outside of the family.
Life isn't fair.
Hubby and I know that it's better to deal with a situation than to complain about how unfair it is.  We know because we've been alive more than three 0r four years.
Thankfully, it seems our kids have somewhat accepted this life philosophy.
We're still going on the Family Kitchen Clean Up Time that we started back in January.  The newness has definitely worn off, and it still isn't automatic, but most nights we get it done.
Right now, though, someone is gone most nights
We've entered the craziness that is baseball season.  We love it, but almost every night, one kid has to leave right after supper to head to church or baseball practice.
Soooo, we're rarely all there to do our fair share.
It's a perfect opportunity to teach (and learn) the life lesson that certain things just have to be done. If there's someone there to share the work, great.  If not, it still has to be done. 
Being there, being able . . . that's all that's needed to qualify you as tonight's kitchen cleaner-upper.
We could leave the kitchen cleaning until everyone is home, but by then we're all tired, we're prepping for bed, and Scatter-brained Mama is overly likely to completely forget.
And we can't risk that.
Because the kitchen has to be cleaned.
That's life.
And now, a few pictures that happen when one of the nine-year-old's jobs for the night is to take pictures for Mom's blog:
Save