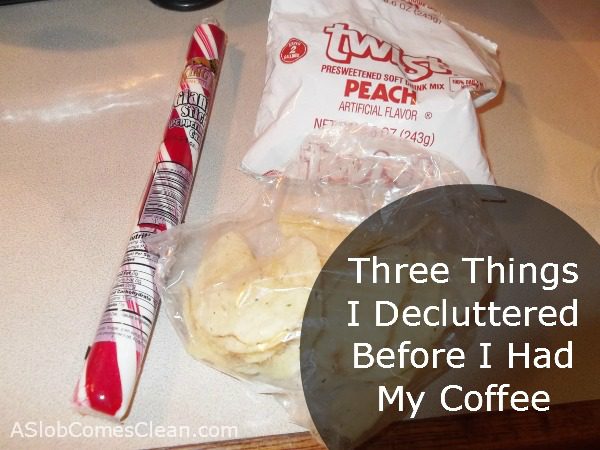 Monday mornings are hard.
Monday mornings after Spring Break are harder.
(Evidently, Monday evenings are hard too, since I totally meant to post this last night.)
I've been mostly-replaced as Queen Lunch Maker around here, but since last night was completely out of the routine I made them this morning.
Since I was making lunches,  I looked at the lunch-making spot.
And actually saw it.
And thought, "Hmmm.  I really should declutter that space soon. It has stuff in it that obviously needs to go."
And then thought, "Ummmm. If I see stuff that needs to go, why not get it out now?"
I tend to assume everything is a big, huge, time-consuming decluttering project . . .
Even when it's just a matter of throwing trash into the trashcan. 
It was food stuff.
Old food stuff.
Stuff I knew we'd never eat, and that I'd never donate.  (Since it was OLD.)
The drink mix was probably fine.  But . . . I know we've had it for more than a year.  Someone gave my husband two of them, and obviously we didn't love the first one enough to use the second.
The bag of chips was probably fine, too.  But . . . it was from a pre-Spring-Break forgotten lunch, so it had spent at least ten days hanging out in its dirt-cheap-so-not-zipper-sealed plastic bag.
And the peppermint stick? I know it was fine. But . . . we just passed St. Patrick's Day and no one had come looking to eat this candy since Christmas.
So I threw these things in the trash.  No, I didn't completely empty the basket or purge it down to the bare essentials.
You could even argue that it wasn't real decluttering.
But there are three fewer things in there, and that makes me happy.
Save