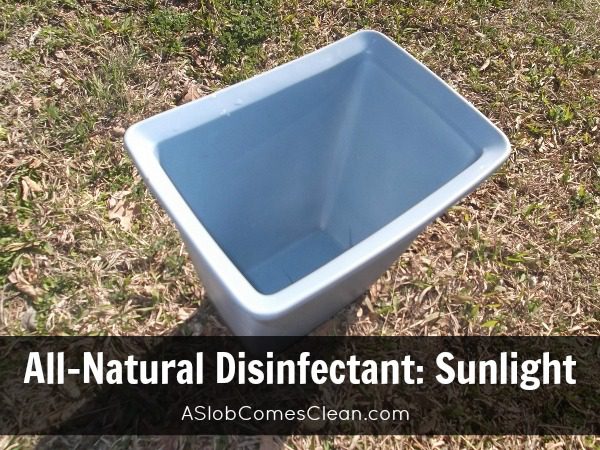 I have both good news and bad news.  More good than bad.
So that's good, right?
The first good news? I'm going to share my favorite all-natural way to disinfect portable items.
The second good news? My kids are MOSTLY at the age when they puke inside things.
Like toilets or buckets or trash-cans.  Not just randomly in beds or on carpet or wherever they happen to be when they suddenly realize their stomach has been hurting for the past who-knows-how-long.
The bad news? The word mostly.
Last week, we had one puke-ey night.
But other than a 6yo coming to tell me she had (like, past tense) thrown up, and assuring me everything landed in either the potty or the trashcan, I wasn't disturbed.
I'm dashing my chances at 2013's Mother of the Year Award, but I'll admit that I simply gave a sympathetic "Poor Baby" and rolled right back over.
So the next day, as I cleaned out the (not that bad) trash can, I was reminded of my favorite all-natural, disinfecting, de-stinkifying substance.
Sunlight.
Sunlight bleaches, removes smells, and disinfects.  Really.  It's amazing.
I know because my mother told me so.
I know because I've done it myself with various stinky things made stinky by three kids.
But I also found it here on TLC's website, and they make it sound much more scientific-ey.
I especially love using sunlight to bleach/clean a left-closed-for-too-long-with-who-knows-what-trapped-inside ice chest.
Have you ever used sunlight to disinfect?