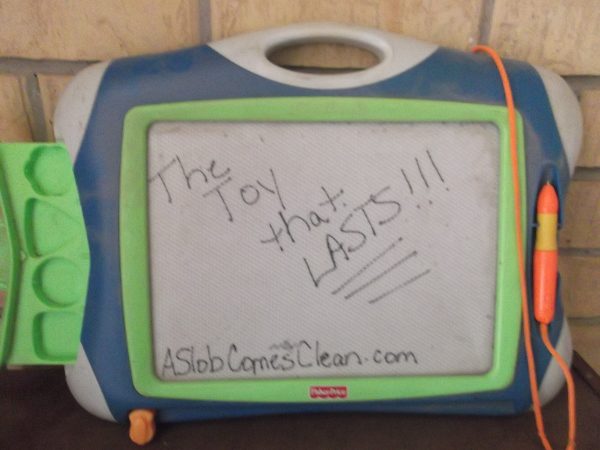 I'm not working for Fisher-Price. I was just reminded again how much I love this toy
while I cleaned out our playroom last weekend.
We've had it since my oldest was barely able to scribble.  He turned 11 in December.
The flower-shaped magnets are long gone, but I feel no angst when I run across this toy in the midst of one of my many decluttering projects. 
It's not broken, and it still gets used.  At random times, one of my three kids will spend a morning or an afternoon drawing or writing on it.  There's something so satisfying about erasing with the little slide-y thing across the bottom.
And not wasting paper when you're  drawing simply for the pleasure of drawing.
And a pen that never gets lost or runs out of ink.
After all the toys that have come and gone through this home in the past decade, I'd say this one is pretty remarkable.
What toys have your kids played with through various stages of childhood?
Oh.  Even though I'm not working for Fisher-Price, I did use my Amazon affiliate link. Ummm, why would I not use it??
Save