It's here.
The finale.
In case you're new to the blog, last August/September, I worked on my Master Bedroom.  I took out EVERYTHING except the major furniture, and only put back what I really wanted to keep.  It was a success.
For like . . . two months.
During those two months, it looked basically like this:
And this:
But still had this:
Other than the blanket pile, it's not that bad.  Really, for me . . . it was awesome.  But I waited to share after photos, because I wanted to make it perfect.
In hindsight, I wish I would have just gone ahead and posted those photos.
Because even though it looked like this for a record-breaking two months, eventually . . . November happened.
And I had to pack for five people to go on a cruise.  And then I went to Chicago for three days.  And then I directed a play, and wrote an e-book, celebrated Christmas and New Year's, and released an e-book.
And by the time I was finished editing and putting out the videos of the work I did in the Master Bedroom, it looked nothing like the after photos I had.
And I couldn't justify sharing After Photos that were now only a pleasant memory. 
So here goes.  I'm going to share what my Master Bedroom looked like last Thursday morning: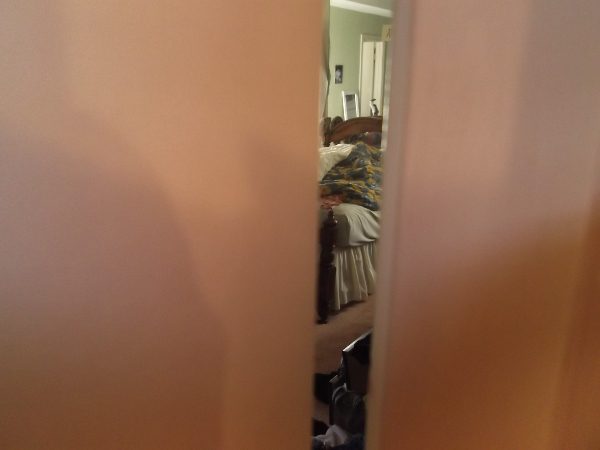 And . . . post over.
Oh.
That's not enough?
Fine.
Here are the real photos:
I have no explanation/excuse.  I just have to say that this is what happens.
When I get overwhelmed and over-busy, I pretend my Master Bedroom doesn't exist.
And that happens.
But this post isn't over.
Here's the thing.  Even as I went through the horrible, terrible, very bad process of getting everything out of the room back in August, I never had the delusion that it would never get like this again.  I knew it would.
I just didn't think it would happen so quickly . . .
But the point of the Major Declutter was to make future de-disasterizing easier.  It was to get the room to a point where it could be cleaned. Just cleaned.  Not overhauled.
So Thursday, I cleaned up the room.  I did purge my dresser drawers, since that was one thing I didn't tackle during the overhaul and obviously . . . I should have.  (Post/webisode coming on that later.)
But other than getting rid of threadbare swimsuits and t-shirts that I'll never wear again, the only other decluttering I did in the room was to get rid of these things that I ran across as I picked up and cleaned.
My point?  Well, usually a big clean-up is a big decluttering project for me.  This wasn't.  Which meant that it only took me an hour or so to get the room cleaned up.
Everything in the room, though out of place . . . had a place, even if that place wasn't in that room.
Confusing enough?
Pre-saga, there was a mass of random junk that was stuck in there  indefinitely.
Now, there's not.
The only stuff making it a disaster was stuff I'd brought in for a certain purpose and that could easily return to its real home.
Picking up and putting away didn't take all that long.  It was basically trash (like Amazon boxes from Christmas presents), and vacation stuff that never got put away (like sunscreen and medicines and flip-flops).
When I quit on Thursday, it looked like this:
Not even stressing over Hubby's table or shoes.
Yep.  A few piles over on Hubby's side. 
I'm proud of these after photos.    The only thing I didn't even try to tackle was the still-there-after-months-and-months Pile O' Blankets.
(Those of you who suggested I might have more blankets than we actually need MIGHT have been right.  Might.)
But then on Friday I started tackling blankets, and with today's Laundry Day, that side of the room now looks like this:
So was the Saga worth it?
Yes.  It definitely was.  (Even though I soooo wish it had magically stayed that way forever.)
I don't know that I'll ever get to the point where I never have to do Disaster Control in my Master Bedroom again, but all the decluttering and re-arranging I did made this Disaster Control Session ever-so-much easier and quicker than it has ever been before.
I cleaned my room.  And I didn't have to declutter it first.  That may be a first for me.
I'm sorry if you're horrified.
I don't know what to be except honest.
I'm sure there will be more posts in the future about this room . . . . 
Click here if you can't see the video.