This is a Sponsored post written by me on behalf of No nonsense for SocialSpark. All opinions are 100% mine.
I go back and forth between:
"Seriously? I have no time to worry about fashion!"
and
"I would like one of everything in the store, please!"
I generally settle somewhere in between at: "I need a few cute pieces that I can dress up or down so I can wear them anywhere."
I've decluttered a LOT of my own clothes over the past few years.  That, plus getting my laundry under control has helped me figure out what I really enjoy wearing.
#1 – It has to be comfortable.
#2 – It needs to be versatile.
As a kid, I never put up with itchy or pokey clothes, and the years haven't made me any more mature in that area.  I look for versatile pieces because as a work at home mom, I need things that can be appropriate for running up to the school or for a Girls' Night Out.
Leggings are perfect for turning a dress into a casual outfit.  I can move more freely and don't have to worry about flashing the world if it's an extra windy day.  (Been there, done that.)
Here's the outfit I created with No nonsense tights and leggings at Polyvore.com.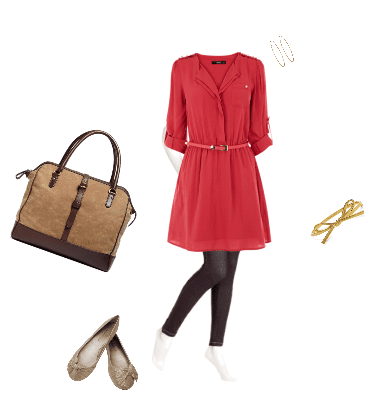 I love the casual, comfortable look of the dress, and I think the No nonsense leggings are perfect.  While I thought about adding boots (so it would be a little more winter appropriate . . . ), I had to be realistic and choose slip-on shoes.  I have started wearing boots some, but honestly prefer shoes that don't require me to BEND over to get them on and off.
I know.  I have issues.
No nonsense leggings and tights can be found at drugstores and mass retailers, and are an affordable addition to my wardrobe.
Jill Martin, an emmy-award-winning TV personality has partnered with No nonsense to provide fashion tips to women and show how tights and leggings can make any wardrobe more versatile and fun.
You can like No nonsense on Facebook and follow them on twitter at @benononsense.