I mentioned last week that my kids made their own Elf on the Shelf, which relieved some of the Mommy Guilt I felt when I saw pictures all over the internet of the cool things other mamas were doing.  Here are a few ideas from my friend Crystal.  (But I'm still not doing it!  Maybe next year . . . )
Are you doing Elf on the Shelf at your house this year? Everywhere you turn people are talking about what their Elf has done.
If you have not started this fun tradition it is not too late. I am sharing 30 days of Elf on the Shelf ideas on my site until Christmas morning.
If you are new to the idea here is how it works. Elf comes at Christmas time and each day he observes the kids' behavior and then reports back to Santa each night. Then each morning you wake up to find Elf in a brand new place in your home. Children are not to touch him.
At our house Elf is silly and fun. Sometimes he leaves a note and sometimes he leaves treats. My kids love the hunt of searching for him each morning. (We have also used Elf to remind our children that Jesus is the Reason for the Season.)
Here are a few simple Elf on the Shelf ideas to get you started: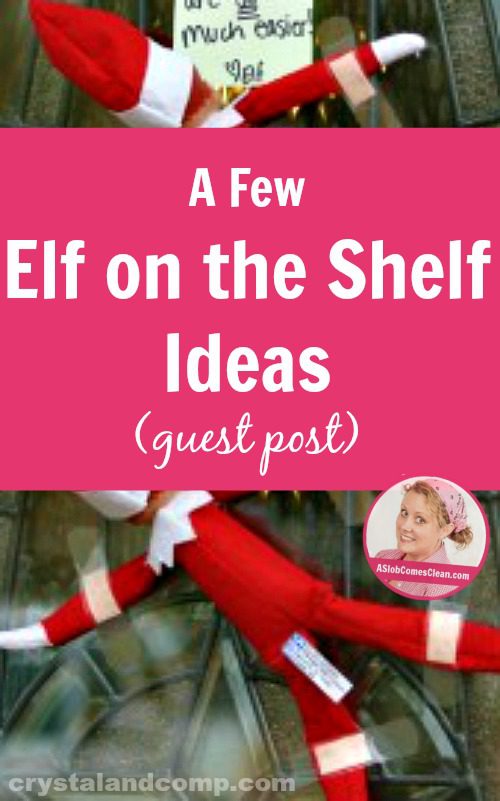 Have you made Elf on the Shelf a tradition at your house? I would love to know what Elf has been up to in your neck of the woods.
Crystal is the author of the mommy resource site Crystal & Co. , and is mom to five wild boys. She loves to share easy recipes, weekly meal plans and craft tutorials. She is also the author of the eBook How to Meal Plan: A Step by Step Guide for Busy Moms.
Save