It's Tuesday.
And last Tuesday, I met Stacy of Stacy Uncorked who hosts Random Thoughts Tuesday.
And last night, I wrote an entire post that was eaten by the internet.  And I didn't like it enough to justify re-writing it.
So when I saw that Stacy had put up her Random Thoughts Tuesday link-up, I figured why not.
Here goes:
Random Thought #1
I'm not as young as I used to be.  (Duh.)
I have ever-so-many more responsibilities than I did when I was younger.  Y'know . . . a house, people in my care who want to eat three times every single day, a BLOG.
And yet I'm still a chronic over-commiter.
20 years ago, I could over-commit and handle it.  Not juggle it.  No, I would just pour all my energy into one thing at the expense of everything else and then catch up later.  I was really good at that.
Except that now, the "everything else" includes living, breathing people . . . so my strategy doesn't work as well.
Random Thought #2
I wonder if we'll put the star on top of the tree this year?  Every year we try, and it always sags and falls.
Three different stars, and it's the same story every time.  This year . . . we haven't even tried.  And the kids haven't asked.
Which is kind of sad.
Random Thought #3
I've felt a little guilty for the past few days that we don't have an Elf on the Shelf
at our house.  Cool Moms all over the internet are sharing pictures of what their (somewhat creepy-looking) elves have been doing while everyone's asleep.  There are some seriously fun and creative elves out there.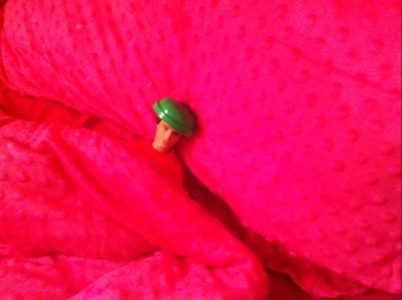 But then, yesterday, my 6yo daughter came home and made her own Elf on the Shelf out of a Ken Doll and a green plastic lid.  Then my 9yo drew one on paper and cut it out and those two proceeded to hide them over and over and over for more than two hours.
They had a blast, and I had a smug feeling that because I didn't follow the crowd, my kids made their own insanely creative fun that will be a big childhood memory for them.
Even though it really wasn't an issue of me not following the crowd.  More of an issue of me not realizing it was already December and again too late to get started.
Maybe next year . . .
And oh yes, that Elf on the Shelf link is totally an Amazon affiliate link.  Not that I think you'll order one of those since it's a little late to get started . . . but maybe if you click over there to see what in the world it is, you'll remember that you need to order your kid's xbox and I'll get the commission for that!