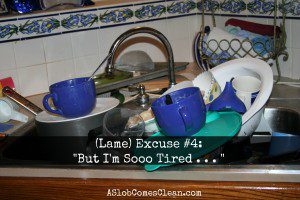 See the dishes?  Contrary to what some Normal People would assume, that's just one day's worth of dishes.
Ish.
Rhythms are difficult to maintain on weekends.  Weekends when your 9yo does a kids' triathlon are even more difficult.
(See how I casually worked bragging on my kid into this post?)
Last Friday night, I was already tired when I started the hour drive to stay with my parents so we'd be closer to the race location on Saturday morning.  I was even more tired when we arrived after an hour of stressful in-the-rain-but-just-enough-rain-to-make-crazy-prisms-appear-all-over-my-windshield driving.
Then I didn't sleep well. Like, the wake-up-at-3:30-a.m.-and-not-be-able-to-go-back-to-sleep kind of not sleeping well.
Then I got the kids up at 5:15 so we could get on the road by 5:45.
Then we cheered on our triathlete while standing in constant drizzle and sometimes rain.
Then . . . the boy who had earned the right to choose where he wanted to eat breakfast chose . . . fast food.
When Grandpa was paying.
Which irritated this mama who just loves to be waited on.
Then we stopped to see a loved one in the hospital where I yawned and yawned because I was already/still ever-so-tired.  Then we got on the road for the hour drive back home . . . in the rain.
So . . . Saturday night when it was time to settle down for the evening, I did NOT feel like doing the dishes.
At all.
Because I was just so tired.
Legitimately tired.
Justifiably tired.
Arguably tired.
For real tired.  Like, totally.
But (probably because I'd already committed to writing about my lame excuses for the next 31 days), I realized that my tiredness was an excuse.
A real thing, but an excuse.  Because I know I have to do the dishes.
Every day.
Like it or not.
Liking actually has nothing to do with whether or not I have to do them.
So I did them.  Which meant emptying the still-full-from-Friday-morning dishwasher and re-filling it.
Which took all of about fifteen minutes.
Or less.
And made me feel eight-and-a-half-times more energized after it was done.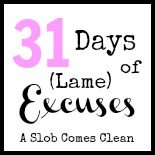 Save