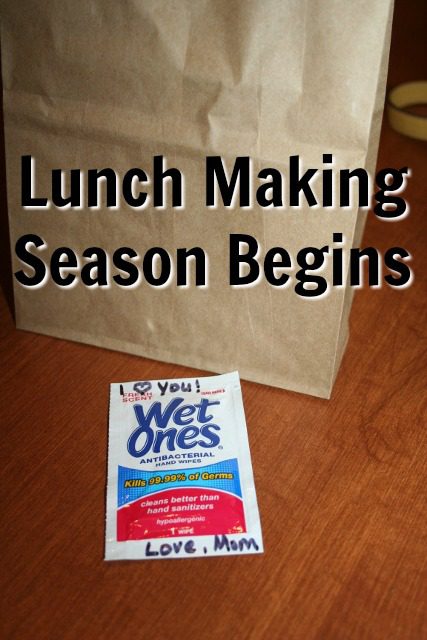 Next week, it begins.
The early mornings.  The early bedtimes.  The homework.
And the lunch-making.  Which is not really my favorite part.
The first day that my first child went to kindergarten, I packed his lunch sack so full that it wouldn't close. It had a sandwich, chips, string cheese, an apple, carrots, and more.
After 5 1/2 years of at-home lunches, I really had no concept of how much my child could/would eat during their school lunch period.
I've adjusted for the most part and other than being accused of being the ONLY mother in the ENTIRE school who doesn't send FULL-SIZED candy bars in her child's lunch EVERY day, I think I do okay.
I haven't found a lot of room for variety (that my kids will actually eat), so to mix things up a little I head to the day-old bread store and use whatever they have in place of regular sandwich bread.  Putting a sandwich on English muffins or bagels is a nice change and makes a peanut butter sandwich a little different.
I also like to add in Wet Ones.  I've always been a fan of Wet Ones wipes over squirty gels, since it just seems more logical to wipe germs off than to spread them around.  They're also more effective for cleaning up sticky hands and faces and easier for kids to use on their own.  I generally carry around a purse pack of them, but the individually packaged ones are perfect to throw into a school lunch.
And with a permanent marker, they're a great place to write those (exciting to a 6yo/embarrassing to a 10yo) love notes from mom!
What are your best tricks for making kids' lunches?
I wrote this review while participating in a blog tour by Mom Central Consulting on behalf of Wet Ones. I received a product sample to facilitate my review and a promotional item to thank me for taking the time to participate.