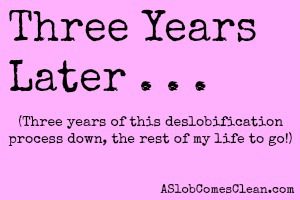 January first?
Schmanuary schmirst!
Every mother knows that the beginning of a new school year is the real New Year.
While I prefer to have my kids home for the routine-free joys of summer, I also try to make the best of whatever stage/season/month of life I'm in.
And yes, I've given that speech three times in the last 24 hours to my Still Grieving for Summer Kids.
So today began a more predictable routine.  I am fairly proud of myself already today, and it's only 10:22 a.m. as I'm writing this.
I exercised, did my Bible study, cleaned the kitchen, swept the kitchen, checked bathrooms for clutter and did a 5-minute pick up.
Five minutes wasn't anywhere near long enough to make up for the Post Summer Conditions around here, but it did make a difference. 
As I was cleaning the kitchen, I realized that today is my 3rd Blogiversary.  Technically, August 24, 2009 was the day I wrote my first post.  But the symbolism of this first day of school makes today my real Blogiversary.
Three years ago, in a moment of total desperation, I started this journey in an attempt to figure out how to get my house under control.  I wanted to solve this problem I'd struggled with for my ENTIRE life.
I had no idea where to start, so I just started.  I stopped making excuses and started doing the dishes.
What difference has three years made?
I'm no longer clueless.
I no longer assume that I'm the only woman in the world with these struggles.
I understand that my brain is different (not less than) women who don't have these struggles.
I get that the part of my brain which I love (the creative part) is directly related to the part I don't love (the slob part).
I have accepted the relationship between those two parts of my brain.
I have eliminated the equivalent of 3 Normal-People's-homes' worth of stuff from my home, so I'm ever-so-much LESS overwhelmed at the thought of getting it back into shape.
I have accepted that this will likely be a struggle for me for the rest of my life.
I have learned ways of coping with this struggle that make me okay with the truth of #7.
I have a WHOLE LOT of new friends who accept me for who I am.  (I'm talking about YOU!)
I now know exactly what to do to get my house back in shape after summer, which means . . . I have hope.
(OK.  I had no idea that was going to turn into a list of ten things.)
Really, #10 is the biggest.  "Hope is a great thing to have!" says the woman who truly had none three years ago. 
Soooo, since I know exactly how it feels to not have a clue where to start when you're desperate to get started, I'm offering my e-book, 28 Days to Hope for Your Home for $3 in honor of the 3rd  anniversary of this blog.  The e-book is based upon what I've learned in my own deslobification process, and will guide you through the development of four basic habits that will give you hope for your home. [The is offer has expired. And my e-book has retired – For detailed guides, check out my books: How to Manage Your Home Without Losing Your Mind andDecluttering at the Speed of Life.]
Just use the code REALNEWYEAR