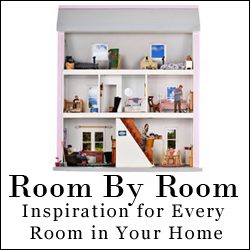 Today the Room by Room girls and I are talking about the Dining Room.
For me, it's the VERY first thing you see when you walk through my front door.  Which is great when it's clean.
And not-so-great when it's not.
And without being EXTREMELY intentional . . . it doesn't stay clean.  I mean, it's a room that basically just contains one big flat surface.
Right where we enter the house or bring in the mail or absent-mindedly cross through to the kitchen.
When that big, wonderful, flat surface isn't clean/clear, it doesn't matter how hard I've worked on the rest of the house.
A clutter-filled first impression equals a bad first impression of my house as a whole. 
I don't have this mastered yet by any means, but I have figured out the best way to keep this room looking nice.
Use it.
Yes.  It's that simple.
My house isn't like the ones in Victorian novels where the parlor was off-limits to the kids so it always stayed nice for guests.  My kids have this strange notion that my house is also their house and (other than knowing they are to never EVER allow anyone into the master bedroom) . . . they play everywhere in it.  And someone else who lives here tends to shuck her HOT-AND-STIFLING-AND-UNBEARABLE jeans the minute she gets in from church.  And  sometimes she leaves them right there in the middle of the DINING ROOM FLOOR.
OK fine. It's actually me that does that.
Anyway, the best way to keep the dining room from getting to a three-hours-of-decluttering-required state is to use it.  Regularly.  Play a board game as a family.  Invite a friend or two over for dinner so we need more room than we have in our breakfast room. Or just eat a regular old weekday meal in there.
Basically, live in it.
Here's the thing.  One of my favorite Pre-Blog Delusions was that clutter gave my home a "lived-in" look.
But there's a fine line between "lived-in" and "can't-be-lived-in-because-there's-nowhere-to-sit-down" clutter.
And the best way to keep it "lived-in" instead of "un-livable-innable" is to live in it.
Of all the rooms in my home, the one that looks the best the most often is . . . the living room. Because we live in there.  As a family.  It's where we sit.  Where we hang out.  Where we have conversations.
It's not safe from my slob tendencies. (Nothing is.)  But because we live in there the most, we pick-up in there the most, and since we pick-up in there the most, it's always easiest and quickest to pick up.
A tame cycle.  (As opposed to a vicious one.)
Make sense?
When we purposefully take advantage of the dining room as a space that's perfect for games and gatherings, we also purposefully clear the small amounts of mail and unfinished projects off regularly.  And clearing small amounts regularly prevents the need to get out the shovel and spend three hours doing disaster control every few months.
What spaces do you need to live in more?
_____________________________________________________________________________________________________
Check out other posts about the dining room from these blogging buds:
Christine from I Dream of Clean is writing about clearing off the dining room table.
Taylor from Stain-Removal 101 is writing about polishing silver.
Jami from An Oregon Cottage is showing before and afters of her dining room.  (And her stuff is always SOOOO gorgeous!)
Lauren from Mama's Laundry Talk is sharing instructions on washing table linens.
Save