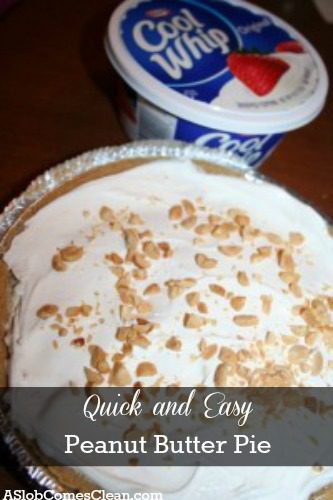 We're not a dessert-every-single-night family. Not that my kids (especially my born-persistent five year old) don't ask for it every night.
So, when Mama's in the mood for a little something special to finish off the meal, everyone gets excited!  The easiest way I know to bring about those smiles is to slice whatever fruit we have on hand and top it with a dollop of COOL WHIP whipped topping.
Why is it that sliced fruit is more fun than unsliced? Pineapple, strawberries, bananas, whatever!  (And I like getting a little more fruit into them at the end of the meal.)
But when I feel like making something that looks a little more like an official dessert, I put together this peanut butter pie that I've been making for years. It takes only about fifteen minutes to prepare, and although it tastes great chilled, it can be eaten immediately as well.
I started making it in our first year of marriage.  I have a distinct memory of hearing my husband tell someone who was enjoying it that this peanut butter pie was "so easy, and takes hardly any time to make!"
For some reason, I was irritated. I guess I liked the idea of people thinking I had worked forever to create such a great dessert.  Now, as a mom, I'm more proud of easy than I am of complicated.
I made it this week for some friends, and it's an often-requested dessert for extended-family gatherings.  I always feel a little funny about bringing such an easy dessert when other people spend hours making more elaborate concoctions, but the fact that people love it and keep asking for more helps me get over that.
It's easy.  And Quick.  Easy, quick . . . and yummy.  The perfect combo.
Peanut Butter Pie Ingredients:
One 8 oz package of cream cheese, softened at room temperature
Two cups COOL WHIP whipped topping, divided into two one-cup portions
Two tablespoons powdered sugar
1/4 cup peanut butter (we use crunchy)
Two tablespoons milk (I use 2%)
One graham cracker crust
Two teaspoons chopped roasted peanuts
Instructions:
Use a hand mixer to blend together the softened cream cheese, powdered sugar, peanut butter and milk.
Add one cup of COOL WHIP whipped topping and gently fold in.
Spread this mixture in the pie crust.
Top by spreading the remaining COOL WHIP whipped topping on the top of the pie, and then sprinkle with the chopped peanuts.
I love this fluffy pie!
Sponsored posts are purely editorial content that we are pleased to have presented by a participating sponsor. Advertisers do not produce the content. I was compensated for this post as a member of Clever Girls Collective, but the content is all my own.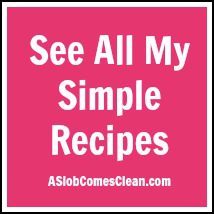 Save