No, my dear gutter-minded reader, that is not a scarf hanging on the doorknob for the stereotypical sitcom reasons.
(We have a lock for that.)
The scarf was hanging on the door because yesterday afternoon, Hubby wasn't feeling well and needed to rest.  At the same time, I was busy picking up the house for home groups last night, and had to get it done before I left to take my 5yo to Disney Princesses on Ice.
The problem?  The master bedroom is my clutter safety-net.  It's the place where I stick all my deal-with-it-later stuff.
I know I shouldn't, and I really have been trying to find a real home for everything and get rid the homeless stuff, but it's hard.
Hard not to use the ever-so-appealing safety net of the lockable master bedroom.
I can't tell you how many times I walked to the door of our bedroom and then remembered I shouldn't go in there.
For example, there was one load of sheets left on the loveseat, waiting to be folded and put away.  I automatically gathered them up in my arms and headed to the master bedroom to dump them on my bed, only to be moved back to the loveseat after everyone left.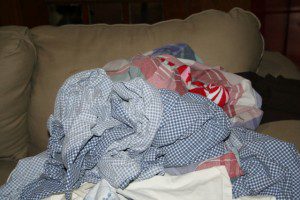 Since the master bedroom wasn't an option, I had no choice . . . but to fold them.
And while folding them I realized how little sense not folding them made.
Y'know, since that took all of about four minutes.
There were items that really did need to go in the master bedroom (like the scarf).  I deposited those things at the door to be taken in later, but plenty of things went to their real homes only because of the roadblock/detour.
I'm proud to say that in spite of my not-a-real-problem, I almost got the house cleaned up anyway.
Almost . . . because when Hubby got up and still didn't feel well, we canceled home group.  And of course . . . I wasn't going to keep cleaning after that.