Don't just look at the picture.  Read the whole post.
Because I've gotten even smarter since I came up with this really smart idea.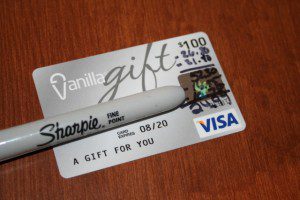 Gift cards have come a long way in the past ten years.  First, they changed to cards instead of certificates, and now you can even give a credit-card-based giftcard that will allow the recipient to use it almost anywhere.
Wonderful, except that these cards have their own quirks.  The first time I received one, I got so frustrated when I tried to use it.  The item cost around 40$ and the card had 25$ on it. I knew I hadn't used any of its value yet, but the machine denied the card.  These cards were new enough that even the cashier didn't yet know that she had to input the amount that was on the card as partial payment.  Basically, since it's not the store's gift card, the store's register doesn't know how much is on it.
Soooo, keeping track of the balance is important.
Keeping track?  Hmmmmm.  Not my strong point.
Of course, you can always call about the balance, but that takes planning ahead.
Planning ahead?  Hmmmm. Not my strong point either.
But keeping a Sharpie marker
in my purse?  I can do that!  (Along with a multitude of other totally useful items!)  This year, since we used a gift card for "play money" over  Christmas break and the balance went down little by little, I simply wrote the amount I spent on the card and did the math.
Remember how I said I've gotten even smarter?  I found out a few days ago that the remaining balance usually prints on the receipt, eliminating the need for math.
Yes . . . you could keep the receipt.
But keeping up with small pieces of paper?  Hmmmmm.  Not really my strong point.
Oh, and that Sharpie marker link up there?  It's my Amazon affiliate link.  You may be thinking, "She's delusional.  Why would anyone order a Sharpie marker from Amazon?"  It's all part of my plan to get you to wonder how much a Sharpie marker even costs on Amazon so you'll click over there through my link and then you'll start looking at new HD televisions and I'll get the credit for that.  But interestingly, when I went to get the link, I saw that you can get a 12 pack of Sharpies for only 70 cents right at this very moment, with 4.99 shipping.  Thus ends the longest disclosure statement of all time.

Save