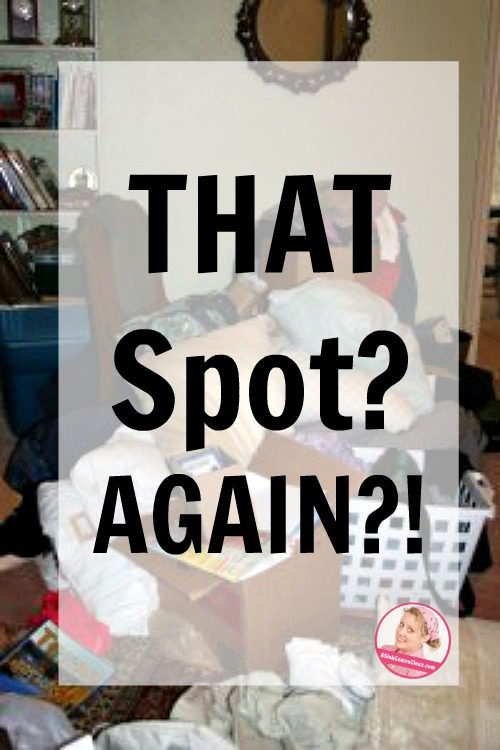 Sometimes, knowing that I've showed the transformation of this same spot umpteen times makes blogging get on my nerves.
While the first time, I was proud of myself, and the second time I was able to grasp how this was a real problem spot and the third time I was amazed that it was such a quick fix . . . by the sixteenth time, I'm just irritated.
And embarrassed.
Because really?  I'm the little kid who can't keep her room clean to save her life.  Being that kid was one thing, but being that adult is another thing completely.
But alas, here we are at the point in the year when we get our annual termite inspection that keeps our lifetime guarantee going.  I have to allow strange people to go traipsing through my home, opening cabinet doors and collecting now-I've-seen-it-all stories to take home to their wives.
And I have to clean my room.  Blech.
So, once again, I started with this corner.  This corner that I've realized gets so bad because we never walk there.  I have to have a path to the bathroom and to the bed and to the door, but no path is needed here.
I put the lid back on the clothing-storage box that makes a table (a two-second task) and then started following my two decluttering questions. Turns out, the pile was big because the stuff in it was big.
Like pillows.  Some were bed pillows, so I put cases on them and distributed them to the beds throughout the house, giving everyone an extra pillow.
I also found throw pillows that were deposited here because I didn't have a place to use them.  Before I had a couch in my office/gameroom, there was a daybed in there.  It was up against the wall, and I piled pillows across the back to make it look a little more couch-ey.  Which didn't really work, but whatever. I had decided that I was going to make that room "fun" and covered the pillows in novelty t-shirts from my college/Bangkok/general-travel days.  I had every intention of one day sewing them up and making this fabulous idea official.  It looked ok on the doesn't-look-right-anyway daybed, but once the couch was in there, this idea looked ridiculous.  There were too many pillows for that couch, and with the saggy shirts on them, it looked like a pile of laundry.
Which, in this house, isn't too much of a stretch.
I'm sure I've said in my life that you can never have enough throw-pillows.
Turns out, you can.
They're now in my donate pile.
I also found the suitcase that I took to the Savvy Blogging Summit in July.  Exactly two months ago.  It's a small suitcase, but it makes the pile a literal foot higher.  And for every foot higher a pile gets, the more overwhelming that pile is to me.
Eight minutes of work later, it looked like this:
Eight minutes of work, but two hours.  Meaning, I worked on it between making chicken fried rice for supper, taking kids to activities at church, sitting and talking with my husband, etc.
Etc. etc.
I'm such a committed slob-blogger. (And I wanted to be able to put up another webisode.)
Really, though, this tackled space does spur me on to do more in that room.
That . . . and the fact that the bug man is coming and I don't have a choice.
Here's the webisode version.  The webisode in which I am very tired, and somehow seem to gain 20 pounds between the first shot and the last.
I'll be linking this up over at Orgjunkie.com for her 52 Weeks of Organizing.
Save
Save
Save