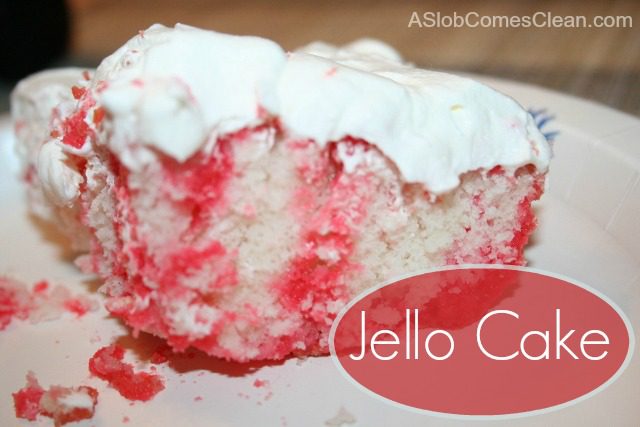 I don't make cakes very often.  I really don't bake much at all.
Not that I don't enjoy baking.
I just enjoy the eating part too much.
I.
Love.
Cake.
A choice between cake and pie is a no-brainer.  But alas, as you may know, I'm allergic to chocolate. Which is bad enough, but I've only been allergic to it since college.
Which means I know what I'm missing. Now, almost 20 years later, I only rarely have the I-don't-care-if-I-get-sick-I'm-eating-it-anyway-and-it's-sooo-good dream.
This isn't a recipe for a chocolate cake, but I bring up the chocolate-allergy-thing because even when I COULD eat chocolate . . . this was my favorite cake.  Which is big.  Very few things in my dessert-world would be a favorite if chocolate was an option.
My grandparents used to make this cake.  My grandfather wasn't a cook, but he would poke the holes in the top, and Grandma would give him praise and credit for helping.
Ingredients:
White cake mix, made according to package directions
Cherry gelatin
Whipped topping
Instructions:
Bake the cake and let it cool.  Then poke holes in it with a fork, poking all the way to the bottom.
Mix the jello with one cup of hot water, and let it dissolve.  Add the second cup of water, but do not let the jello set.  Pour the jello liquid over the cake, and put in the fridge to cool.
Once it is re-cooled, ice the cake with whipped topping instead of frosting.
Simple, easy perfection.
______________________________________________
And now for our week's menu plan:
Monday – grilled chicken and fried okra
Tuesday – Fajitas
Wednesday – Meatballs in mushroom gravy over mashed potatoes
Thursday – Spaghetti
Friday – Out to eat
Saturday – Grill out
And just go ahead and mentally add "jello cake" to every meal (even breakfast) until it's gone.
Feeling like you're having deja vu?  Yes, I failed miserably at following my menu plan last week, so I'm giving it another go this week!
I'll be linking this up over at Orgjunkie for Menu Plan Monday.