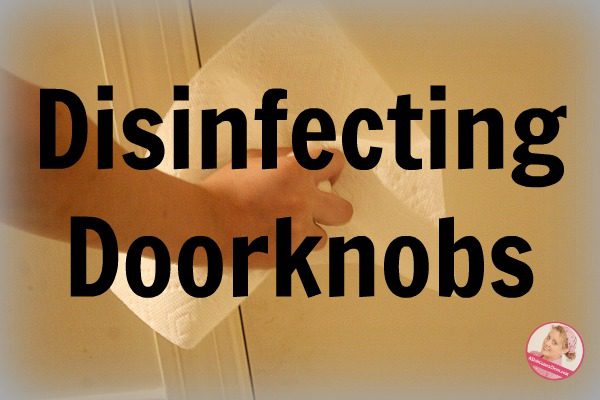 The stomach bug from You-Know-Where hit our family this weekend.  My kindergartener brought it home and by Monday morning, all three kids had blessed the floors, various tables, the Suburban, puke buckets, and occasionally  . . . . a toilet with all sorts of loveliness.
My kids are generally pretty good at making it to the bathroom, which means this was a particularly violent strain.
(You're welcome on that mental picture.)
Anyway, I spent a few hours yesterday disinfecting doorknobs.  Not because we have a mansion with a ba-jillion doorknobs, but because when you wipe down a doorknob . . . Slob Vision clears up.
Once the doorknob is clean, you see the smudges on the door around it.  And once the smudges around it are gone, you see the what-in-the-world-splashed-around-here marks on the rest of the door.
And then there's the doorframe.
And the wall beside the door.
I squeezed my eyes shut to avoid seeing that the entire room needed a full wash-down.
I guess it's good that cleaning one thing produces the motivation to clean something else.
I guess.
But I also have vague repressed memories of not wiping smudges off of walls/doors/cabinets/wherever because I knew that it would lead to more cleaning than I thought I had the time to do.
______________________________________
If, like me, you're a germaphobe . . . you should check out ShopAtHome.com's WILD deal for today.  Their cash back rebate, just for today, is 1.98 on hand sanitizer that costs . . . 1.98 at Walmart.com.  Meaning, you go through Shopathome.com (be sure you're signed in) to get to Walmart.com and buy the sanitizer.  You'll pay the 1.98 plus tax (mine was 15 cents), and then get 1.98 credited to your Shopathome.com account within a month.  The shipping on this particular item is FREE, and I paid through paypal.  Click here to go straight to this WILD cash back deal.
Save