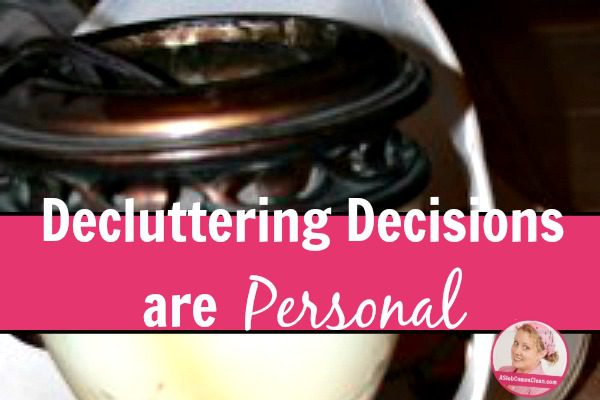 When my husband gathered up trash this morning, and picked up this newly-broken lamp . . .  I felt the familiar pang in my chest.
Am I really going to put that lamp in the trash?  But I love that lamp!
LovED that lamp.  Because now, of course, it's broken.
When I arrived home Sunday evening from my trip, I was brought back to Mama Reality within minutes as I watched the fast-motion race-to-the-favorite-chair and the slow-motion tip-then-rock-then-fall of the lamp from the nearby end table.
Even though I immediately moved it to the Trash Spot on Sunday, I experienced those familiar Second Slob Thoughts today. I'm sure I could google swagbuck "What can you do with a broken lamp?" and find all sorts of ways to re-use the base, or the shade, or even the broken glass.
But the real question is, "What can I do with this broken lamp?"
And the answer to that question is likely:  Put it in a closet to be forgotten until I declutter in two years and kick myself for having kept it all that time.
There's a 30% chance that I'll experience decluttering regret when I find that I have a need for a lamp-shade, a lamp-base, or the electrical components.  But that leaves a 70% chance that I'll never remember I even had this lamp.
I think I'm going to go with the safe bet on this one.