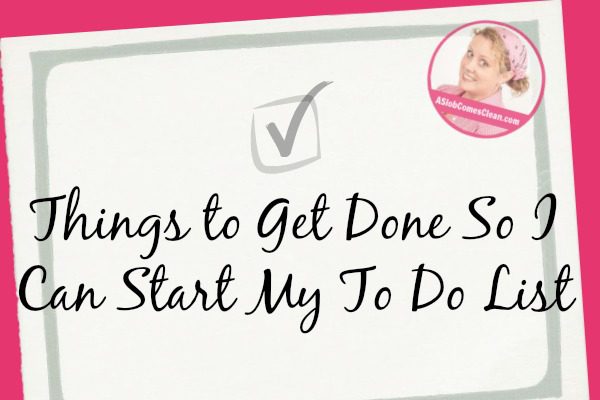 Two more weeks!
Two more weeks!
Two more weeks and school is over for the year!  I LOVE summer!  I love having all of my kiddos home all day!
Last summer, I was a little scared.
It was the first summer of this slob-recovery-thing, and although I couldn't wait to have the kids home, I was petrified that I would lose any momentum I had gained since beginning my deslobification process.
This year, I know I'm going to lose some of my momentum.  I know that it's going to be harder to keep the house under control with our loosey-goosey summer schedule.  I know that a lack of routine means my Slob Vision will worsen for the next few months.
But this year, I also know . . . that we can do it.  We can maintain SOME cleanliness standards over the summer months, and even with the backward steps I know our home will take, it's not all lost.
That is the main brain-change I've experienced since starting this blog.
Life goes on.  Sometimes my house is messier than others.  Sometimes it's a total wreck.
But it's possible to recover from these times.  I no longer fear that the downward spiral will never end.
And . . .  I do have plans for Summer of Clean II: Toilet Brushes Return.
I've already talked to the kids about it, and yessss mommmm, they remember.  Like last summer, I'm going to involve them in our weekly cleaning tasks.  They'll vacuum, dust, clean bathrooms, mop the kitchen, and do the laundry.
They can't wait. 
In the next two weeks, it's my job to set up our home for success.  To set up my children for success.
I need to dedicate the time to not just do an "okay" job cleaning the bathrooms, but to give them a top-to-bottom scrubdown.  This will make it so much easier for the kids to maintain with daily wipe-downs and up-to-kid-standards weekly cleaning.
If I want to make "Pick up your room before you watch TV" a part of their daily tasks, I need to set them up for success by giving their room a good purge before summer begins.
If they will be responsible for wiping down the breakfast table and kitchen counters, I need to be sure that I've re-re-cleared my clutter spots so they'll be able to do their job thoroughly.
And those are just a few examples.
So, for the next week, in between class picnics and assemblies and dentist appointments and kindergarten registration and such . . . I have a lot of work to do.