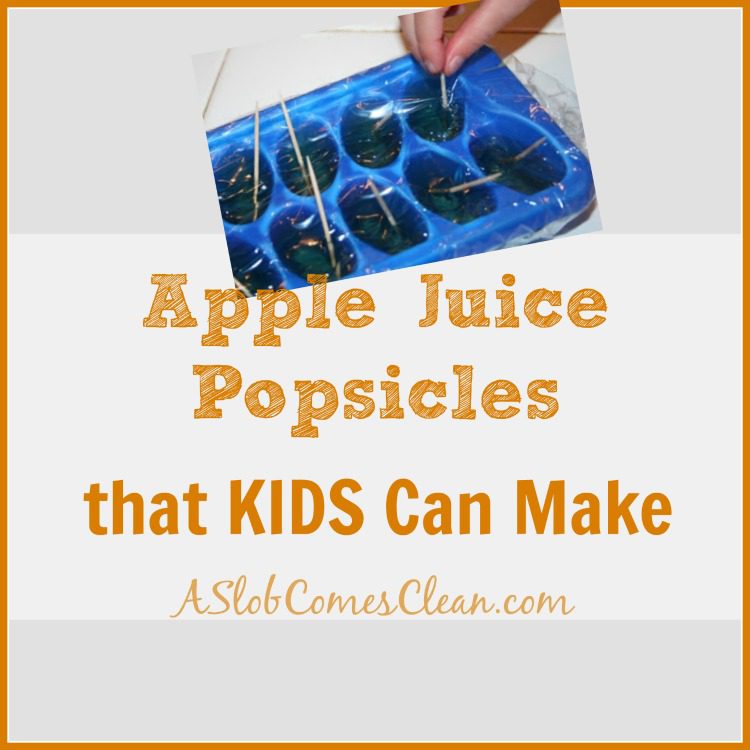 I've been overly cranky lately, and some of it has to do with feeling overwhelmed.
In times like these, I tend to not do a lot of creative things with the kids.  If the table is messy, or the supplies aren't handy, time slips by and the guilt can build up.
But this little project is quick and easy. 
It was my daughter's idea.  I'm pretty sure she saw it done on Playhouse Disney a while back (I linked to Playhouse Disney so I can give them credit.  If your life is like mine, you might not want to click on it unless you're ready to give up the computer to your pre-schooler).  It's a very kid-friendly version of apple juice popsicles.
Pour the juice into an ice tray.  


Cover the ice tray with plastic wrap.  


Poke toothpicks through the plastic wrap for handles.  
Place in the freezer.  
Thankfully, my upright freezer still has several level spots available.  There's nothing like the frustration of getting to the end of a quick and fun project . . . only to find that you have to do a major project (like a freezer clean-out) before you can finish.
I love this simple "recipe" because it makes my five year old daughter feel that she has created something wonderful in the kitchen.  Her face truly glowed last night at supper when my husband praised her for making this special dessert.
I'm linking up to Kitchen Tip Tuesday which is being hosted at Lynn's Kitchen Adventures this week.