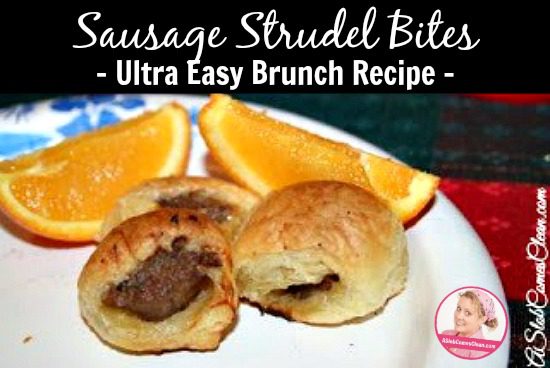 This year, I made these sausage strudel bites for breakfast on Thanksgiving morning, Christmas morning . . . and I may just make them again on New Year's morning.
They're that good.
So easy to make ahead and then bake just before eating.  And oh my word, they taste fabulous.  Whenever hubby needs to take something for a breakfast at work, I send these, and they always get rave reviews.
Really, this almost isn't a recipe.  It's more instructions on how to put them together.  I'm pretty sure the original idea was one I found on the package of puff pastry years ago, but I've come up with a few tricks that  make it super simple.
Ingredients:
One pound roll of breakfast sausage.
One package of Pepperidge Farm Puff Pastry sheets.  This stuff is fantastic.  It's found near the frozen pie crusts.
Remove the puff pastry sheets from their package and thaw for 30 minutes.
After they thaw, roll them out to make them smooth and a little bigger.  Take about one-sixth of the roll of sausage and roll it between your hands to make a snake as long as the pastry.
Cut the pastry alongside the sausage, and then roll it over, wrapping the sausage in pastry.
Using kitchen scissors, cut the rolled strudel into bite sized pieces.
They don't have to be perfectly shaped, no one will care.
Bake in a 350 oven for about 25-30 minutes or until golden brown.
I love to get these ready the night before and just pop them in the oven in the morning.
They're special, they're easy and they're delicious.
I'm linking this up to Saving the Family Money for her Christmas morning recipe link-up.