I love this post by Molly. I'm a huge fan of figuring out cleaning and organizing strategies that work for your unique family, and that's exactly what she did!
As a mom to three boys the clutter threshold at our house is low, real low.

I used to think my kids were the only ones who couldn't put the blocks in the block bucket and the cars in the car bucket. Now that they are older, I cringe that I spent so long trying! I now know that intricate sorting is just not in their DNA!

I have made some bold organizational changes around the house to get to a place where the boys can help me. I surrendered to the fact that if I want assistance at all, it can't be done my way. Frustrating, of course, but I feel much better getting results and knowing I am no longer setting them up to fail.

The first big change came with the laundry hampers. When the boys were younger I had hampers in each bedroom and bathroom. Nonetheless, towels and socks were still on the floor. So, in addition to gathering stray laundry, I also had to straighten five mostly empty (and usually knocked over) hampers.

In a rage of laundry fury, I removed all individual hampers in favor of a full-size sixty gallon garbage can next to the washing machine. The boys almost immediately had more success getting laundry into it. It isn't a cute decor look, but it helped mentally streamline the goal for them. Get laundry in huge can next to washing machine. In their defense, what is the purpose of the tiny holding zone hampers?

The second area I had to give up on was the toothbrush zone. Each boy now has an entire drawer dedicated as a target for his toothbrush and paste. You read that correctly. Each kid gets a whole drawer. It is an inconvenience to not be able to store much else in the bathroom. However, the countertop is often clear. I can indeed wipe the counter and sink whenever I muster up the energy.

When I see those tiny toothbrush holders in the stores, I just shake my head. Are there actual families that get each toothbrush slipped in place each night?

The climax of my custom organizing for the inattentive and disinterested is the communal closet. I house the boys' clothes in a single coat closet near the laundry. Most items are hanging (for visibility). Remaining items are labeled in big bins such as "sloppy pants" for polyester sport pants that don't stay folded. There is also an important bucket labelled "uniforms'' where the swim jammers and soccer socks hang out together.

It gets to be a mess in the communal closet, but at least there is only one space I have to slog through. When I tell people about my genius group closet idea, it is often a reminder that I am working with a higher level of unkempt. Many cannot understand how the clothing could be that big of a hassle. It was.

I also work to keep wardrobes minimal and only do laundry once a week (per Dana's excellent advice). I do this because inevitably, even with my extreme accommodations, all the clothing will end up in the wash. I do not sniff laundry.

Maybe my clutter threshold will increase in my next stage of life. As Dana so perfectly explains (in podcast 221), you have to acknowledge what you are working with in your present household. Currently shoe racks or labeled pantries would be nothing but constant reminders I am the only family member who cares to participate.

I've read some mom wisdom about the day there are no shoes piled at the door is a very sad day. Maybe that is true. Or maybe that day is bittersweet because mom can finally install herself a shoe storage system that won't be used as a gathering place for water bottles.

[by Molly Haffele, Fighting the Clutter in WI]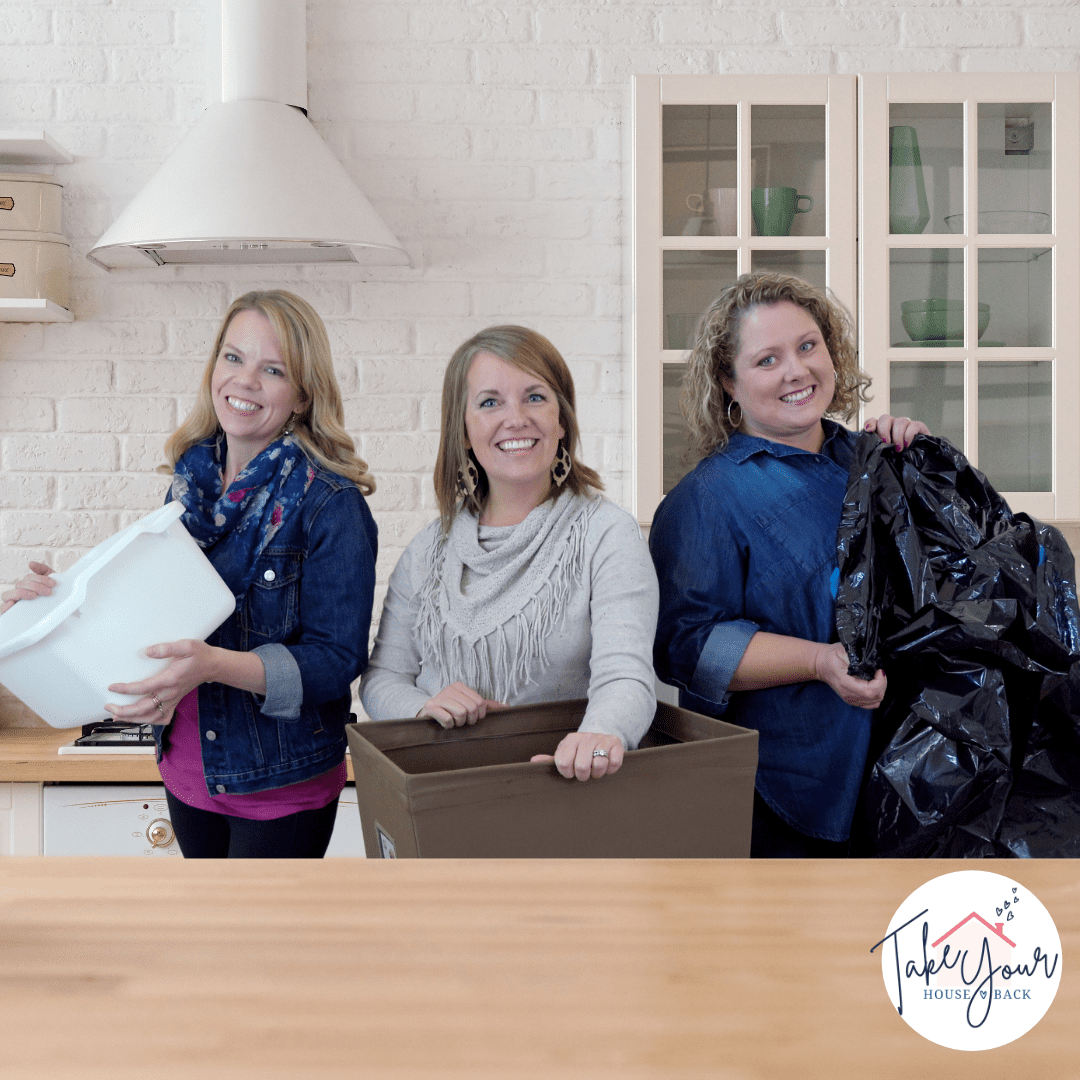 Have you heard? I've teamed up with Cas from Clutterbug and Dawn from The Minimal Mom to bring you the course: Take Your House Back! Go check it out!