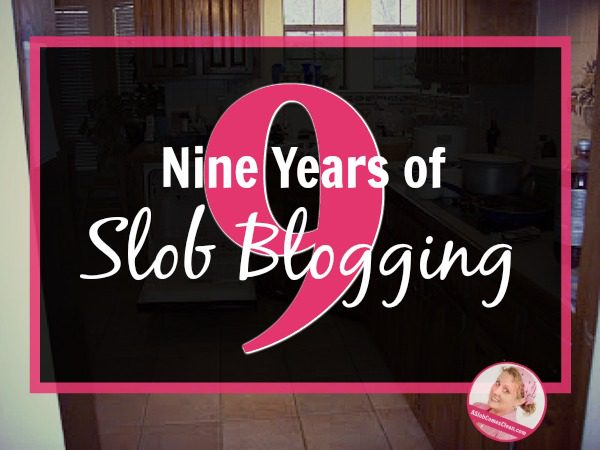 Nine years ago, I wrote the very first, photo-less-at-the-time post on what was supposed to be a practice blog that no one would ever know I had created. I wanted to have a blog, but I was ashamed of the state of my home and was desperate to get it under control before I started writing.
I'm thinking today about the things I did NOT know nine years ago. Things I would have laughed at or vehemently denied could ever happen if someone had shown  me the future.
I'm still going.
A Slob Comes Clean was a practice blog. Puh-rac-tice, y'all. It wasn't real. It wasn't "my thing." And it most definitely wasn't something I'd do or even be able to do for more than a few months. I mean, what in the world would I write about once I'd conquered this messy house thing?
I started this deslobification journey assuming my goal was to find a cure. Instead I found a treatment. Unfortunately, that treatment is doing the dishes. And getting rid of stuff I don't need. And as long as we eat food or buy anything ever, I get to continue my treatment.
There are other people in the whole wide world who feel like they somehow missed the line where housekeeping skills were handed out.
Pre-this-blog, I'd never met anyone who was as bewildered as I was about how a house could go from party-ready to oh-my-word-child-if-you-answer-that-door-I-will-never-buy-Oreos-again-don't-test-me-I-mean-it in two days flat.
Turns out, there are a lot of us.
People ask me questions about cleaning, organizing and decluttering.
And they listen to my answers!!! And then (get this!) they follow my advice and then thank me because it worked!
Oh my word, this is the most hilarious shocker of all. I've written on these subjects, I go on TV shows to teach people how to declutter, and people find my answers when they google things like: "left washing in the washing machine now it smells."
I'm not laughing because I don't know how to do these things. I totally know how to do these things because I've had to work my bo-hiney off to learn. I just wish I could see the look on my own face if 2018 Me could have told 2009 Me what was coming.
To celebrate, I'm going to give THREE SETS of my books: Decluttering at the Speed of Life, How to Manage Your Home Without Losing Your Mind, and Giving God the Worst of Me, signed by me!
There are three separate giveaways for three sets of three books, each giveaway with its own winner, so read on to find out how to enter one of them or all of them!
First, tell me how you found me in a comment on this post! I love getting to know my kindred spirits! One comment will be chosen using random.org, and that commenter will win a set of signed books.
Second, I'm going to choose one newsletter subscriber to also win a set of signed books. Sign up to be a newsletter subscriber here if you aren't already!  It's free, and a great way to keep up with the things that go on around here.
Third, click over to this photo on Instagram! Leave a comment on that specific photo and be sure you're following me on Instagram.
Winners will be chosen using random.org. Prizes are provided by me, and winners must respond to my email or IG message within 48 hours or I'll have to choose different winners. Prizes can only be shipped within the continental United States. So sorry. I'm not made o'money, y'all.