Thanks to Febreze for sending me to this event and sponsoring this post.
Y'all know my thoughts on smells/scents. I'm generally not a fan of breathing in anything other than air. But since being a member of the Cleaning Collective for P&G, which includes Febreze products, I've had a lot more scent in my home than I had before. This is mostly because my boys immediately grabbed the Febreze products out of the box of stuff that arrived at my house last fall. They've finally hit the stage where they want to not stink (Hallelujah!!), but they totally blame each other for any less-than-pleasant smells in their room.
Before I knew it, the Febreze was gone.
And I'd only experienced nice smells and no adverse reactions.
I visited P&G's headquarters last year to attend Febreze's first ever Febreze Safety Immersion and found out there's a lot of interesting stuff to learn about scent! I'm sharing all things odor elimination, scent and how I know that Febreze is a safe product to use around me and my family.
And honestly, because I work on the internet where information overload happens (and some of that information can be a little sketchy), I did have the question: Is Febreze safe or toxic?
I spent a day last year at Procter & Gamble's home care labs in Cincinnati and met a few of the scent scientists (<-my term, not the official one) who have devoted their careers to defeating schtank. Or, as they so much more maturely refer to it, malodor.
I learned there is more to this product than just covering up smells with perfumes (which is, honestly, how I'd always assumed it worked).
The scent scientists study malodors to understand their chemistry so they can create an interaction with the schtank molecules and actually change their chemistry. Two things stuck with me. First, there's a donut shaped molecule that traps the stink molecules inside of it so they no longer stink. Second, citric acid (like in lemons) is used to change the pH of the molecule to be closer to water. Scent-free water. To see how the stink-fighting science of Febreze works, go here. That page includes several videos showing how the chemistry works (floating molecules of stink interacting with floating molecules of Febreze) that are strangely satisfying to watch.
A Few More Things I Found Interesting about Febreze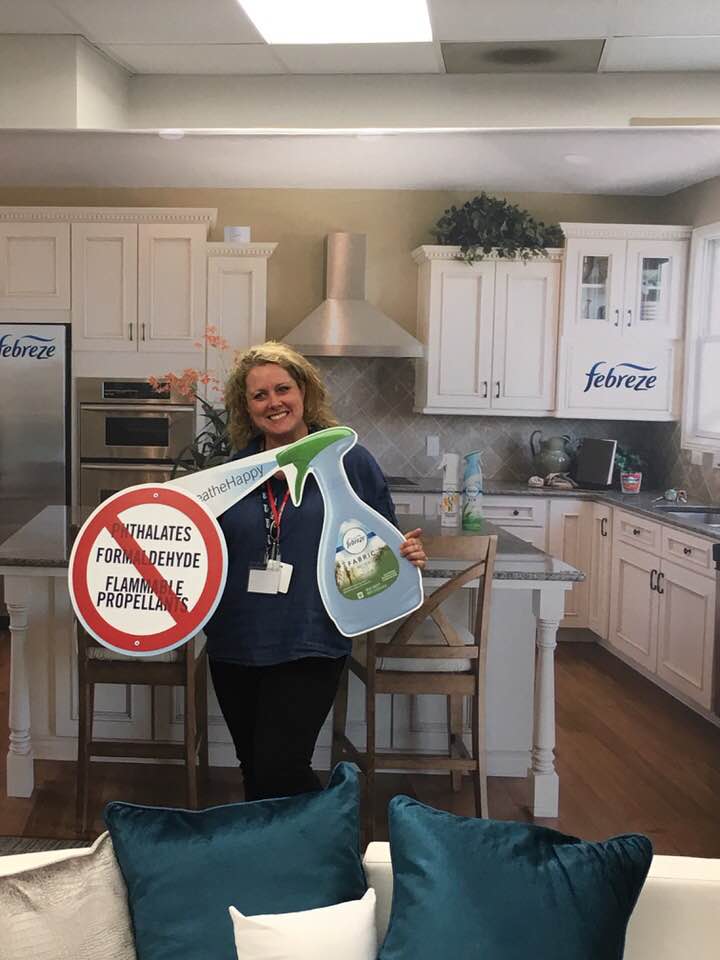 One thing that came up when discussing whether Febreze is safe or toxic was the rumor that air fresheners have formaldehyde in them. Febreze doesn't. None of the major brands of air fresheners have included formaldehyde in many years.
P&G, as a company, employs more than 500 scientists whose work is devoted to ensuring the safety of the products they make. They take product safety very seriously.
Did you know you should not shake Febreze? Febreze's propellant is different from most, using only nitrogen. (Nitrogen makes up about 78% of the air that we breathe and allows for a water-based spray instead of a hydrocarbon-based one.) This allows the bottles to hold a lot more. Shaking a Febreze bottle isn't unsafe, but it will cause you to run out of propellant sooner.
I'm a fan of eliminating stinkiness, but it's the perfumes that generally give me a headache. I've found that the products that don't bother me are the ones with citrus scents. And I'm a big fan of the Febreze ONE line which has no aerosols, dyes, or heavy perfumes and is specifically designed to have a lighter scent that goes away more quickly once the malodor has been eliminated. I especially like the Mandarin scent one.
As someone who is a little phobic about what I'm breathing in, I appreciated being taught that particle size determines how far something goes into my respiratory system. This infographic explains.
That photo at the top of the post? The flowers are sitting in Febreze to demonstrate its gentleness. At the dinner the evening before our day in the labs, one of the Febreze scientists poured Febreze fabric refresher into that vase and put the flowers in it. This picture was taken close to a full day later and the flowers were still fresh and alive.
So how has my new knowledge about Febreze affected my own home? Since returning from my day of learning about Febreze safety, I've been using Febreze significantly more in my own home. Now I understand the fairly obvious (though not obvious to me before) truth that 75% of my home is air, so the air needs to be part of my cleaning routine. I'm much more excited to use Febreze products (the ones with scents that don't bother me) on my furniture and for general air-cleaning.
NOTE: Giveaway has ended. Want to win a gift pack of Febreze products valued at more than $25? Just leave a comment telling me what you learned from this post that you didn't know before!
Winner will be chosen using random.org. Giveaway will close on June 15, 2018 at 9 p.m. Central. Sorry, but this is open only to residents of the continental U.S. or Canada. Winner must respond to my email within 48 hours or another winner will be chosen. See all my giveaway policies here.
--Nony