Thanks to Proctor & Gamble and Walgreens for sponsoring this post!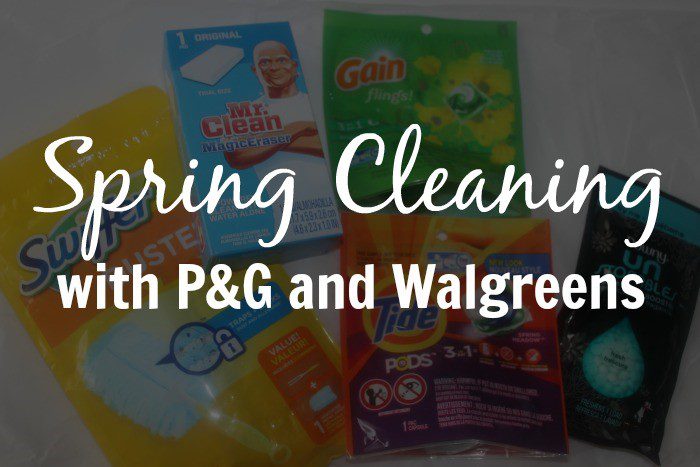 Spring weather (when it actually arrives) gives me the itch to clean things I've successfully ignored over the winter months. Suddenly, messes that were small annoyances become crazy obvious and scream out to be CLEANED!
Walgreens and P&G are partnering to offer some great deals to help you get your messes cleaned up and your home sparkling again. If you spend $20 on participating P&G products at Walgreens, you can get $5 off your next purchase! This promotion will be running from May 6 through June 30 in the Dallas area.
Get the Grime Off Your Much-Touched Surfaces with Mr. Clean Magic Eraser
I'm rather obsessive about washing my hands, and I try to pass that obsession on to my family members.
I do not understand how in the world every surface that hands touch gets grimy. But it totally does. Lightswitches, the area around doorknobs (how in the world do we miss the doorknob so often when reaching to open the door??), kitchen appliance handles, and even remote controls!
Mr. Clean Magic Erasers clean those grimy areas like . . . magic. Really. I just wet it, squeeze it out so there's no dripping to worry about, and erase the dirt. This works so well, it's honestly shocking sometimes. (And strangely satisfying.)
Like the grime around the handle on my white cabinet. It's hard to photograph grime (really . . . ), but do you see the results of a SINGLE SWIPE with the Mr. Clean Magic Eraser in that last photo?
Surfaces that I once thought uncleanable when I'd tried to tackle them with wipes or brushes are easily cleaned.
Swiffer Away the Built-Up Dust Bunnies/Chunks
Calling them "dust bunnies" makes them sound cute. More realistically, they're "dust chunks."
If your ceiling fan has built-up dust chunks, the Swiffer Duster (which you know is one of my favorite cleaning products) will get it cleaned quickly and easily. I like using it because I can make a big difference with a gentle dusting, and I don't worry about spraying products onto my ceiling fan or trying to hold it still while wiping and somehow messing up the balance.
The Swiffer Duster trapped the dust, kept it from falling in my face, and was gentle enough that the fan never even moved.
If you walk by your AC intake vent and do a double take because it has suddenly grown fuzzy . . . grab your Swiffer Duster and do a quick swipe over the vent to get it clean. While the building mess doesn't register in my vision, having the vent look clean and fuzz-free does make me notice how much nicer my hallway looks.
Clean Windowsills and Baseboards with a Combo of Swiffer Dusters and Mr. Clean Magic Erasers.
Opening the windows and letting in the sunshine means seeing the grossness that has built up on my windowsills over winter. I remove the loose dust and dirt first with my Swiffer Duster and then get the grime off with the Magic Eraser.
The same combo works well for baseboards. Sometimes, simply Swiffering them is all I need to do, but if there's ground in grime left, Mr. Clean takes care of it for me.
Keeping Blankets Fresh when Packing Them Away for Next Year
With the arrival of warmer weather, I like to pack away our winter blankets. Washing them before storing them is important, and I know so many of you LOVE your laundry to smell wonderful.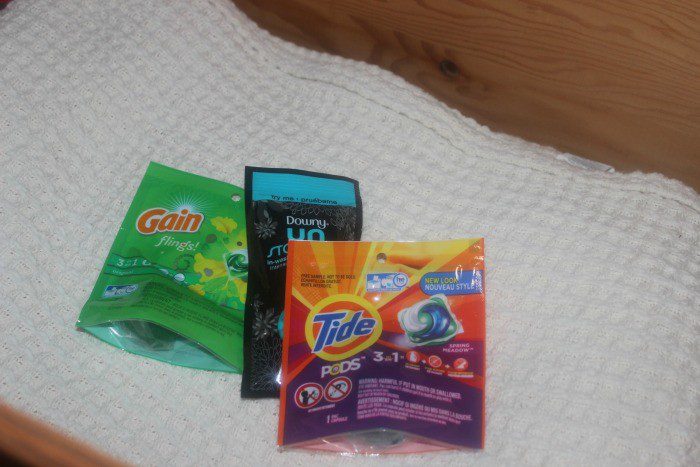 You know I can't personally do scented laundry, but for those who can, GAIN and Downy Unstoppables provide lasting scent (up to 12 weeks) that will have your blankets still smelling great when you pull them out next fall.
And if you're dealing with the mustiness of beach towels and spring linens coming out of the closet, Tide PODs will get them fresh and clean and ready for the coming summer.
Selected Walgreens stores will be hosting sampling events for these products on May 12th and 13th in the Dallas area. Stop by to get your FREE samples of Downy Unstoppables, Tide PODs, Gain Flings, Mr. Clean Magic Erasers, and Swiffer Dusters (while stock lasts). See below for the list of Dallas area stores and the times of their events below so you can get a Healthy Home too!
5/12/2018 11:00AM – 3:00PM                                                                                   
2800 Southwest Pkwy                   Wichita Falls       TX           76308    940-692-0911
2141 N Josey Ln                               Carrollton            TX           75006    972-323-1115
401 N Galloway Ave                        Mesquite            TX           75149    972-329-7410
4435 Gus Thomasson Rd               Mesquite            TX           75150    972-270-2073
7151 Boulevard 26                           North Richland Hills         TX           76180    817-514-9474
2410 Ball Park Way                         Arlington             TX           76006    817-861-7661
5310 N Macarthur Blvd                  Irving     TX           75038    972-753-0053
3425 Sycamore School Rd             Fort Worth          TX           76123    817-370-0077
3732 W Northwest Hwy                 Dallas    TX           75220    214-956-0117
2253 Central Dr                                Bedford               TX           76021    817-868-9202
507 S Carrier Pkwy                          Grand Prairie      TX           75051    972-237-2122
2001 Custer Rd                                 Plano     TX           75075    972-599-1901
1104 S Westmoreland Rd               Dallas    TX           75211    214-467-3541
18207 Midway Rd                            Dallas    TX           75287    972-307-7556
4403 Colleyville Blvd                      Colleyville            TX           76034    817-514-9458
6244 Lake Worth Blvd                   Fort Worth          TX           76135    817-238-0385
3221 W Wadley Ave                        Midland               TX           79705    432-699-5991
750 W Wheatland Rd                     Duncanville         TX           75116    972-572-2423
5/13/2018 11:00AM – 3:00PM                                                                                   
2140 E Campbell Rd                        Richardson          TX           75081    972-889-9102
4202 S Carrier Pkwy                        Grand Prairie      TX           75052    972-266-7900
3400 Matlock Rd                              Arlington             TX           76015    817-419-0566
10001 N Macarthur Blvd                 Irving     TX           75063    972-501-9200
2200 E Pioneer Pkwy                      Arlington             TX           76010    817-860-9500
5101 S Lancaster Rd                        Dallas    TX           75241    214-375-7100
1050 W Shady Grove Rd                 Irving     TX           75060    972-253-8160
4520 Western Center Blvd             Fort Worth          TX           76137    817-514-8063
2050 Long Prairie Rd                      Flower Mound  TX           75022    972-355-4831
5950 Broadway Blvd                       Garland TX           75043    972-303-3191
--Nony