If you're a high-end collectibles dealer who buys and sells with skill, I'm not talking to you here. I'm talking to those of us with collections of stuff that give off a vague aura of value.
Our family has recently been living the experience every family goes through, but no one looks forward to.
We've been cleaning out my husband's parents' home. My mother-in-law moved into an assisted living facility and my father-in-law passed away in August.
Suddenly, all the years of talking, worrying, and wondering about how we'd get rid of almost-fifty years' worth of stuff ended, and we had to actually get rid of it all.
Let me be clear that their home was never cluttered, dishes were always done (without ever using a dishwasher) and laundry was never piled on a recliner. I greatly admire my mother-in-law's ability to keep her home neat and ready for drop-in visitors (who truly did drop in every single day) even when she worked full time.
Total side note: This makes it even more amazing that my husband is so kind about my issues.
So the thoughts that ran through my head as we held their Estate Sale apply in every home, not just for those of us who struggle with excess.
The more stuff there is to get rid of, the less money individual items will bring.
Even if items, on their own, are technically valuable.
My husband's father was an amazing welder. He had a building fully equipped with everything he needed to fix anything but a broken heart. (<-his joke)
He earned the praise and devotion of anyone who used his services, and valued every valve, torch, and centimeter of solder in that building. He loved talking about how much it all was worth, but wouldn't let us help him sell any of it.
In the heat of last summer, while my father-in-law was in rehab for a broken hip and we knew a move was inevitable, we dug through the building and asked questions of any of his former colleagues who could stop by to help us. We simply did not have the expertise to assess the value of the welding equipment.
Out of necessity, conversation turned from "someone would pay good money for that" to "how do we find someone who wants this."
Little by little, a few things left. But a few weekends ago, it was time for it all to go. ALL of it.
I was reminded that an item sold alongside thousands of other items in a limited time isn't worth what a similar item sold individually in an ideal situation is worth.
Anything you sell is only worth what you can actually get for it in your actual situation.
If you have one thing to sell and an unlimited amount of time in which to sell it, you can work and work until you find the very best way to connect with the very best customer and get the very best price.
But a deadline (like the house going on the market or the only weekend the helpers can devote to an estate sale) changes that. You can only do so much in a limited amount of time.
Every item added to the SELL pile causes math to happen.
The ideal situation gets divided. Chopped up into pieces. Stretched too thin.
And the focus is, out of necessity, getting stuff out. Because at that point, it's either let someone pay me something to carry it away, carry it away myself, or pay someone to carry it away.
Honestly, it was a hard and exhausting wave to ride at the sale. We constantly alternated between wanting to get the most we could for my mother-in-law and being hit over the head with the sheer volume of stuff that needed to go.
So how does this affect my home?
I need to get the value out of my stuff now. One of my best decluttering strategies is to use things. If something is great, I might as well experience that greatness. If I use it so much that it's all used up, that's perfect.
If something I don't need is worth enough money to motivate me to sell it, I need to sell it. Now. While it's the only thing I have to sell.
Keep donating. There's nothing like post-garage-sale-exhaustion to remind me that donating is the way to go.
In related news, here's what I wrote in an Instagram post after watching my super-strong husband and four other grown men grunt and groan and rig up levers and ropes to get a humongous welding machine into a truck:
"The more a treasure weighs, the more likely it will be considered clutter by the next generation. Hassle is a legitimate factor. And muscle. And sweat. And size of available truck."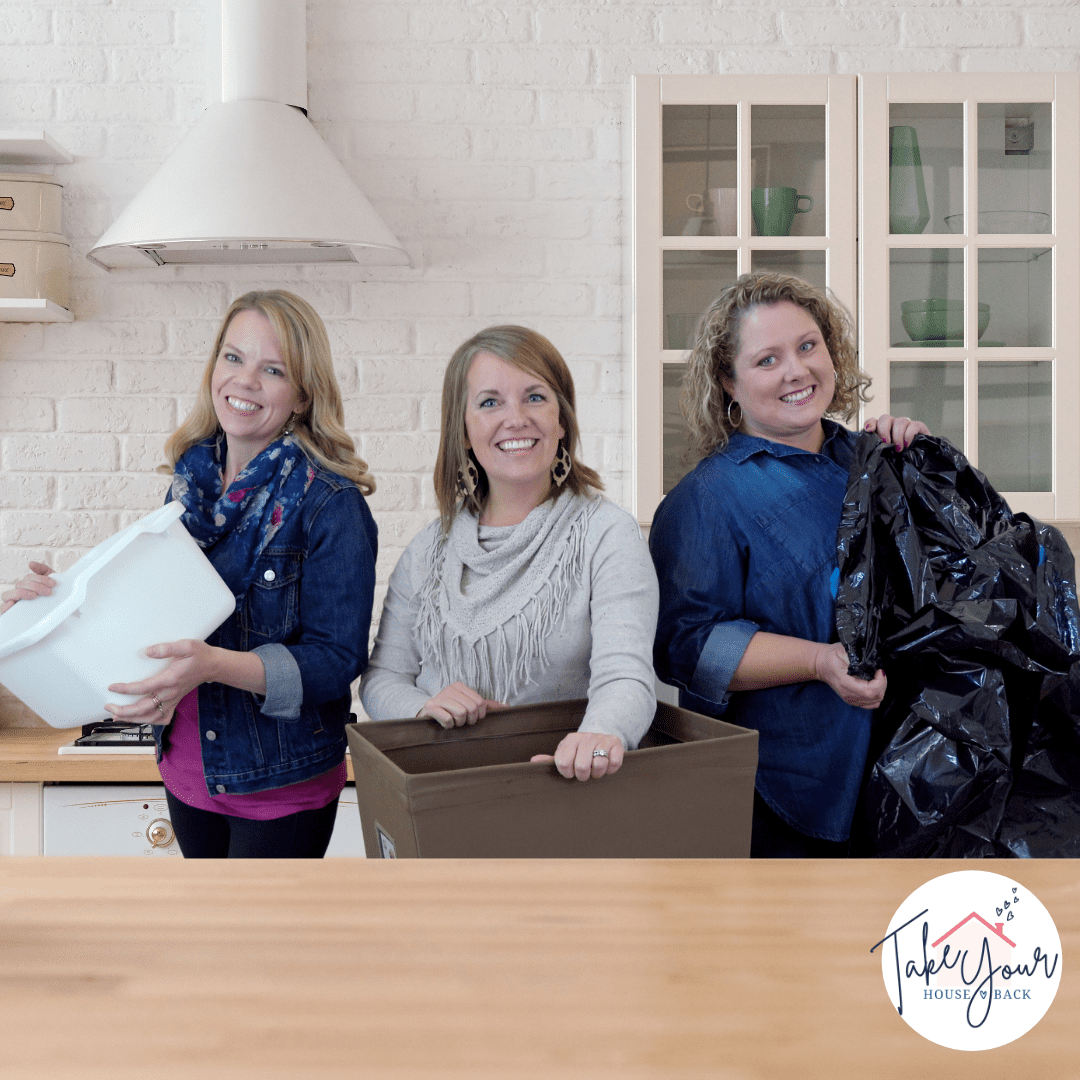 Have you heard? I've teamed up with Cas from Clutterbug and Dawn from The Minimal Mom to bring you the course: Take Your House Back! Go check it out!
P.S. If you're on Instagram but aren't following me there, you should be. It's a lot of fun. Go follow me. I'm @aslobcomesclean.
P.P.S. If you're stuck on the idea of value or the process of decluttering, you need my book: Decluttering at the Speed of Life. 
--Nony