Want to feel guilty? Declutter your pantry of expired food. Expired food that legitimately could have fed a hungry child.
Ugh.
A few weeks ago, when I had a daunting deadline and little brain power in the face of a-thousand-little-things-I-could-do-for-a-book-launch, I headed to my safe and creative space at our local library to get some writing done.
As I walked in the back door, a small table with an even smaller sign caught my eye. I stopped, read, and gasped in delight. I think my eyes might have even watered.
My little local library . . . is having a FOOD FOR FINES DAY!!!!!
I've heard of these things, but if mine has ever done one before, I missed it.
With trembling fingers, I added the date to the calendar in my phone and set it to alert me.
I am fairly sure I have a ten dollar fine right now, and I'm fairly sure that's because ten dollars is the limit to their fines per book. And I dream of the day when I get fines paid off and finally get set up to check out library books on my Kindle. (So the books will return themselves . . . )
Right. You can't get set up for checking out ebooks when ANYONE IN THE FAMILY has a fine.
Now, I know that there are some of you thinking: Ummmm, you can't scrape up ten dollars to pay off the blankety-blank fine??!?!?!?!
I could. It's even possible that I had ten dollars in my purse at that moment.
I have no idea why it didn't occur to me to look for cash (they don't take debit cards) instead of planning for the momentous occasion of Food for Fines.
Whatever.
The point of this post isn't actually library fines. Go here to read a post all about that guilt.
This post is about food waste.
My very first thought when I saw this announcement was that I had the PERFECT food to donate. I knew for a fact that in the bottom of my pantry there were two Costco sized boxes of macaroni and cheese. Costco sized boxes are big boxes with eighteen little boxes inside.
THIRTY-SIXISH BOXES??!? That would cover my fine and it would give me motivation to get those boxes donated.
Because that's why they were there. At least one of the boxes-full-of-boxes was there specifically because I purchased it to donate. And then I never donated it. But I kept thinking I'd have it to donate when someone asked for donations.
A few days later, in a moment when I saw those boxes, actually noticed those boxes and (most significantly) thought to pull them out to be ready for this momentous donation motivation, I thought to check the expiration dates.
And . . . they expired in '17. Last year.
Totally undonatable.
Blergh.
Obviously, we don't eat enough mac and cheese to justify the jumbo packs. So I offered them for free to more-adventurous-expired-food-eaters and when there were no takers, I decided to throw them away. And bought another 18 pack to leave in the car until that lovely alarm goes off and sends me to the library to "pay" my fine.
Throwing away food is horrible. It makes me feel horrible. But I'm also not willing to eat them (especially since we didn't even eat them when they weren't expired) and I can't donate them.
What I can't do is the thing I'm tempted to do: leave them in the bottom of my pantry, knowing we'll never eat them, because I want to avoid feeling the guilty feelings caused by throwing them away.
That horrible guilty feeling is icky. I don't like it at all. But once I feel it, it's over. And the space in my pantry is free. Which feels good.
But when I leave it there, even though I avoid the intensely awful feeling of guilt over throwing away food, I live with a nagging feeling caused by knowing there is expired food I'll never eat taking up significant space in my pantry, and by knowing that one day I'll have to throw it away and feel that horrible, icky guilt feeling.
So throwing it away is like ripping off a bandaid. It has to be done. Especially after offering it for free in local group on Facebook and not having any takers. That was even more painful because it added humiliation to the mixing bowl full of bad feelings, but it did confirm that there really was no other option.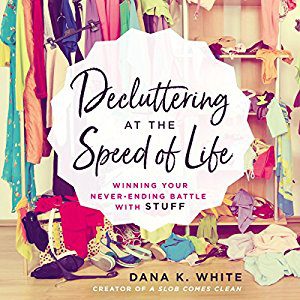 Did y'all know that my new book, Decluttering at the Speed of Life, is now available!?!? In it, there's a chapter specifically about decluttering your kitchen, and I talk a lot about these exact issues and how they make decluttering so difficult. I talk about them from the perspective of the person who understands way too well what it's like to be paralyzed by the guilt.
UPDATE: My newest book is now available! Available wherever books are sold, or learn more HERE. You might also want to check out The 5 Day Clutter Shakedown, a video course that walks you through my decluttering methods step-by-step.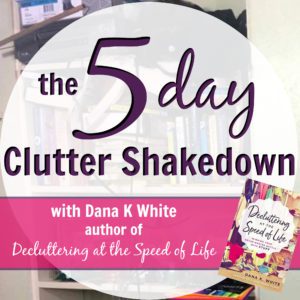 --Nony