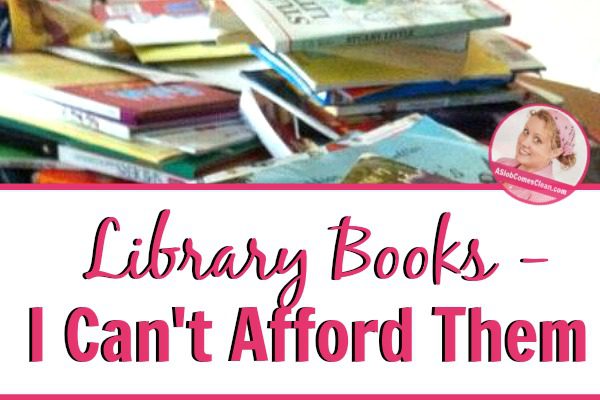 Here goes.
This is it.
That post.
The one that will likely make you avert your eyes, pretend you don't know me, and start scanning for an "unsubscribe" button.
I'm frugal.  I hate to pay more money than I need to . . . for anything.  But I buy books at garage sales.  That's frugal to me.
Other people, even ones who aren't as cheap frugal as I am, get them at the library and don't pay a dime for them.  But for me, library books are too expensive.
Let me give you one example (of many) of why this is true for me.
Almost two years ago, when my oldest son started to first grade, I took my other two children to the library.  We used to go regularly for Storytime, but the Bible Study we attend now is on the same day of the week.  This was a Wednesday before Bible Study started, but after school started, so I thought we'd squeeze in a Storytime.  For some reason, though, they weren't having it that day, and so my son begged me to check out some books on frogs.  I gave in (though with great apprehension) and we checked out four.
Then, before the books were due, life started up.  It was the year when we tried to do gymnastics on Tuesdays and Bible Study on Wednesdays.  Add in two or three other random activities a week, and I was running ragged.
Library books?  What library books?
Let's just say, it was a very long time before I turned them in.  And then, I'm pretty sure I just threw away the fine notices, and vowed to never go to the library again.
Whatever thoughts you're thinking about me right now, believe me, I've thought them.  How could a good mother let that happen?  How could a good mother keep her children from the library?  Why in the world didn't she just take the stupid books back?
For almost two years now, I pushed the fine out of my mind and avoided the question when the kids asked to go to the library.  I bought TONS of great books at garage sales, and told myself that that made it okay.  I made excuses about why my oldest son couldn't go to the Summer Reading Program at the library last year.
In my mind, I had a $40.00+ fine to pay, and I was never willing to sacrifice a big chunk of the budget for it.
But then, when my second son started school this year, and soon wanted to get books that took him further than his Kindergarten Campus library took him, he started begging to go to the library.  Begging.
I avoided and made excuses.
I decided to swallow my pride/shame/whatever and take care of this issue that I've been avoiding, literally, for years now.  Today was payday, and I went to pay the fine.  First thing this morning.  The minute the library opened so that hopefully I wouldn't see anyone I knew.
But alas, I live in a small town, and I can't go anywhere and NOT see someone I know.  As we walked in, a woman whose name I don't know, but who obviously thought we were long lost friends walked in with me.  To the same desk where I was going.  I stalled until she left, and sheepishly said I wanted to pay my VERY BIG FINE.  Seriously, I felt light-headed.
Turns out, it was only 19.00.  Still a huge fine, but nothing compared to the 40+ that I thought it was.
So I paid it, signed up my boys for their own library cards so they can go to the Summer Reading Program, and even . . . checked out a book for my daughter when she begged me to.  We came home and created a designated spot for it in the shoe shelf by the back door.  Hopefully with the boys going most weeks this summer, our fines won't be as big.
I also signed up for their new online account system which allows you to renew books easily and get emails to remind you that your books are due.
This is one of many situations where I struggle to find the balance between accepting myself as I am, and not letting myself just be "how I am."  Does that make sense?
I can't be a person who randomly stops by the library to research subjects and check out books whenever I feel like it.  My brain doesn't sense time passage when it relates to returning things, at least until the shame is so great that I want to will the situation to go away.  But, at a time when we're planning to go to the library weekly, we can get a few books at a time.  Maybe.
Things like this make me really despise my slob-brain.  I shouldn't be this way.  I'm a lover of books . . . I taught British Lit, for crying out loud, and I yet somehow, I'm not enough of a grown-up to be able to handle turning in library books, and my kids are the ones who suffer.
Grrrrr.