This is a sponsored post, but I can say with confidence that I'm loving using the planner sent to me by  Ultimate Weekly Planner.  (Use the code SLOB for $5 off your order!)
If y'all have been around a while, you know that increased stress increases my scatterbrainedness. It's fact. And holiday prep plus book launch planning plus teenagers with football games three nights each week plus adjusting to our new normal with my MIL living down the street plus whatever-else-comes-up means my scatterbrainedness is in full swing lately.
This is a great time to test a new planner. I am desperate to stay on top of all the things that need staying on top of lately.
While I do love digital organizing tools, there is real value in paper planners. The main one, for me, is that I can stare at entire weeks or months in a quiet room with nothing to distract me, letting my brain percolate over how the various things on my to do list (also right there on paper) will fit into the various slots that are my upcoming days.
Key phrase: nothing to distract me.
I can't accidentally check my email. Or flit my eyes toward the red dot that just appeared on an open tab. Or read the first half of a text that comes across my screen.
As I've been dumping my thoughts into my new Ultimate Weekly Planner, I have felt the jumbliness clear from my brain. Each scratch of an obligation into a neat little square or rectangle removes a big portion of the nagging feeling I had when that obligation was depending on my remembering.
It's pretty. Very striking.
It's a good size. I can fit it in the purse I've been carrying lately. It's still big enough, though, that I don't have to write tiny and I don't lose it. They sent me several, and my daughter has started using hers for school. It fits well in the outside pocket of her backpack.
I like that there are monthly and weekly to do lists right next to the day-by-day slots. I listed out my overall goals for the month and week and then it was easy to stick them into specific date slots. When I'm in project mode (like the project of a book launch) this is extremely helpful.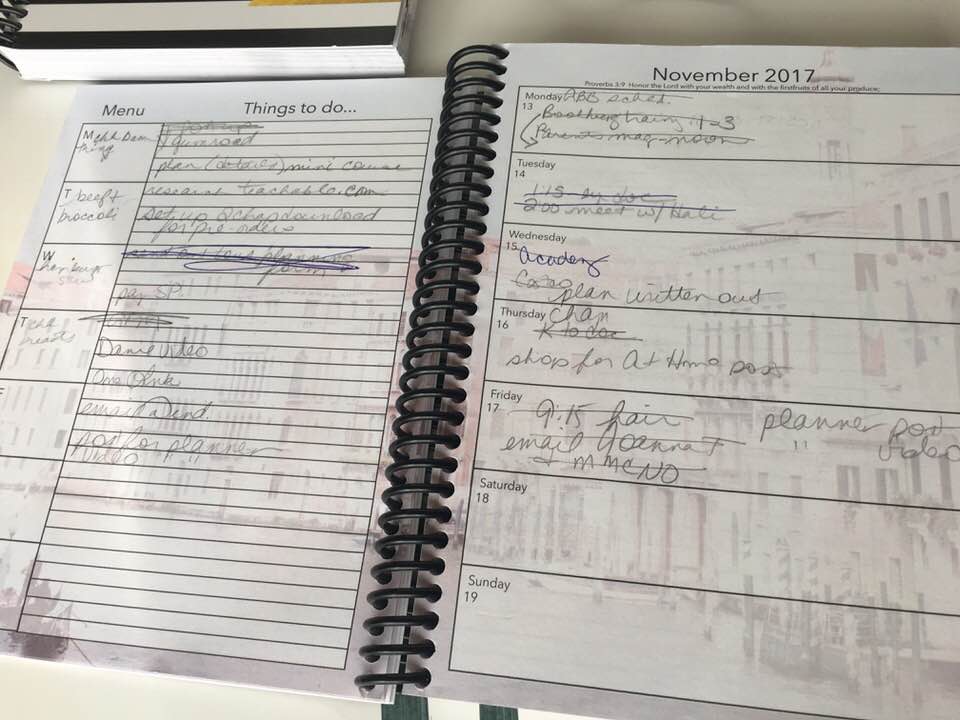 The menu boxes for each week are simple, but so so helpful. Jotting down meals helps my overall state-of-mind.
I didn't have to wait to get started! The 2018 planner starts in November of '17 and goes through January of '19.
There are also lots of pages in the back for grocery lists and notes. This means the planner could double as that little notebook you carry around!
The price is extremely reasonable. At $17.95 + $3.88 for US shipping  ($9 14 for Canada shipping), I can confidently say this is a great value. Especially when they're offering YOU $5 off your purchase with the code SLOB.
You can watch  my video review here.
The giveaway is over, but you can still order a planner!!
AND, you have a chance to win a planner!! Ultimate Weekly Planner has offered to give away three planners to people who comment on this post! Just tell us below what your biggest goal is for 2018! If you go ahead and purchase a planner, they'll be happy to refund your purchase if you win! One comment will be chosen (I'll use random.org to choose a number), and that person will have 48 hours from the time I send them an email to respond with their mailing address. Continental U.S. or Canada only. (Sorry!) The giveaway entries will close on November 27th, 2017 at 9 p.m. Central time. See my giveaway policies here. 
--Nony