This post is sponsored by Blue Apron, but the opinions and thoughts and crazy life circumstances are mine.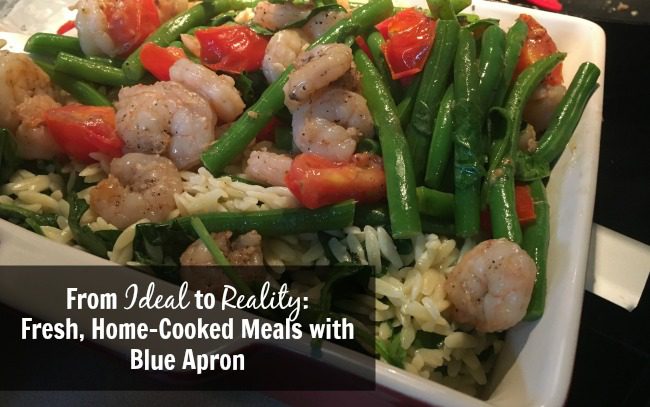 Two weeks before school started, we received a Blue Apron box. I ordered it for that week, thinking it would be the least crazy for us, right before meet the teacher nights and sports practices began.
Life didn't follow my detailed plan.
That happened to be the week when we spent hours in the ICU with  my father-in-law, making multiple trips to the hospital each day.
For the most part, other than some meals brought by friends, we were existing on fast food and frozen pizzas.
But when fresh food was delivered to my door, with every last ingredient I needed and detailed instructions to make the recipes I'd chosen, I cooked. Since I enjoy cooking, my time in the kitchen was a welcome break from the stress we were experiencing.
And when we heated up the food, plate by plate (since dinners around the table together weren't happening), I breathed the sigh of relief that comes when I eat real, fresh, home-cooked food in the middle of a crazy time.
With each meal, my husband commented, on his own, how nice it was to eat something that tasted so fresh during that stressful week.
And that, to me, is the #1 benefit of Blue Apron's service. Blue Apron helps bridge the gap between idealism and real life.
So many times, I've had conversations with women who want to cook, who mean to cook, who believe in the value of cooking at home, but who struggle to actually make it happen. There are lots of ways to get started cooking at home, but ordering a planned-for-you, measured-for-you, delivered-to-your-house meal box is especially great for the idealistic mom who wants to do more than stick some chicken breasts in the oven (not that there's anything wrong with that).
I know all about being paralyzed by idealism. I get big ideas, but sometimes life doesn't allow me to carry them out. With all the talk about things like regenerative farming practices, sustainably sourced seafood, hormone and gmo free ingredients, etc. . . . the idealist can feel paralyzed trying to remember all the information she's heard even without trying to match up that information with what she sees in the grocery store.
And that's on an ideal day. On many days, there may be no time available (or at least time you want to spend) to plan meals, make a list, and walk the grocery aisles searching for the best ingredients. Much less wondering where to find crème fraîche. 
Blue Apron is a way to make the ideal actually happen. It cuts out several of the most intimidating steps so you can just cook.
So what did we eat?
Shrimp and Veggies over Orzo pasta. This was delicious. So so fresh and light and lovely. It was also a "30 minute meal" according to the site. I don't remember that as an option from other times when I've had Blue Apron deliveries, but was excited to see that most (if not all) weeks now include one 30 minute meal as an option.
It took us a little over 30 minutes because my 15yo son made this one under my direction, and he's a novice cook. He's so novice that he didn't know until a few days later that he hadn't cooked rice. Orzo looks like so similar to rice that he'd assumed that's what he was making. (And yes, I rolled my eyes.)
This meal made my husband sigh in relief over eating something so "delicious and fresh-tasting" in the midst of a very difficult week.
Our other meal was chicken souvlaki in pitas with potato wedges. (Those aren't raisins. They're fancy olives, which came in a small package with only the amount we needed for the recipe.) We all loved, loved, loved this meal. Wonderful flavors and making the cucumber sauce from scratch was fun. Because I was crunched for time that week and knew from past experience that Blue Apron meals aren't usually quick, I was happy to find that the chicken came already sliced for the recipe.
This was our third time using Blue Apron's service. We have loved each of the six meals we've had. They're definitely a level up from my normal, very basic cooking style. For a somewhat picky family of not-that-adventurous eaters, that's high praise.
I encourage you to read my other posts sharing our experiences. In this one, I shared the details of the ordering process and how the delivery works. In this one, my kids did the cooking to test out the service for inexperienced cooks.
If you find yourself frustrated that you can't seem to make home cooked meals happen because the planning and shopping don't happen, check out Blue Apron's upcoming meals. The first 50 readers to order will get three free meals/servings on their first Blue Apron order! Just click here.
If you've used Blue Apron, I'd love to hear about your experience and how it worked in your unique life situation!
--Nony