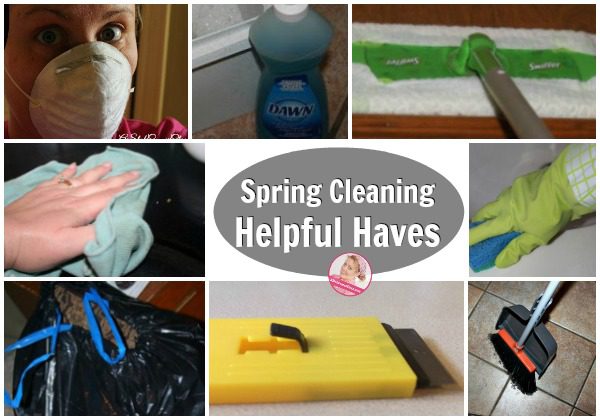 I might have called this post: Spring Cleaning Must Haves.
But that isn't true. I've learned that the very best cleaning supplies to use are the things I already have. Whatever that stuff may be.
Because getting started is the hardest part of spring cleaning.
Getting dressed, finding my purse, and heading to the store is a sure way to drain every last drop of that elusive cleaning energy.
But if, just if, you're thinking ahead about spring cleaning, or you're cleaning now and feel determined to have better supplies ready the next time, here's a best cleaning supplies list of my fave cleaning products for bigtime cleaning.
And fair warning, I'm using my affiliate links to get you to the products on Amazon. Partly so you'll know what I'm talking about, but partly so I'll get a teeny-tiny portion if you end up buying anything while you're there. 
Must. Be. Black.
Seriously, y'all. I get garbage happy during Spring Cleaning and I don't need my kids crying over what I just threw away. They can't see what's in a black trash bag. So yay for that.
For real. If you need to tackle a strange sticky splatter that has completely hardened onto a surface, you just might be able to get it scraped up with much less effort than scrubbing would require. So many professional cleaners and the lady at Maytag who writes the instructions on cleaning glass cooktops have told me this trick. Be careful, and test/practice in an inconspicuous spot.
If you're completely scared or don't have a razor blade, an old gift card or credit card works well, too.
This is a must have for me. The spaces I'm dealing with during spring cleaning tend to be dustier than most, and I am oh-so-likely to use my aversion to flying-dust-induced bronchitis as a reason to not even start. The dust mask may not be comfortable (at first), but it frees me to get in and get the job done.
Right. If you need to knock down cobwebs or ceiling fan dust globs, one great excuse for not getting started is the fear of getting a glob in the eyeball. These are less ugly than the ones I have.
Bandana
If you tend to justify not cleaning because you just washed your hair (I totally understand), perhaps a headscarf/bandana would help you get going. I prefer pink, of course. There are lots of choices here, but you can get them at Walmart for cheap.
Cleaning glass? Microfiber cloths are great, but so are squeegees. And squeegies bring back that strange "Mom, can I please clean the windows??" thing that happens when kids see a window washer doing his or her job.
Rubbermaid Extendable Scrubber
Need to clean behind the toilets? (In case you're not sure, yes, you do.) The Swiffer is great, but if the mess needs extra scrubbing (I won't go into details, and you're welcome for that), I love this extendable armed scrubber that lets me scrub what I need to scrub without my face needing to be right up on whatever needs scrubbing.
Dish Soap
I'm partial to Dawn, but use what you have. Dish soap is awesome for cleaning so many things. Kitchen counters, bathrooms, etc. Just be sure to buy multiple bottles and label the one that goes in the bathroom so it doesn't accidentally end up back in your kitchen.
Officially, they're to protect your hands. Unofficially, they're to minimize the gross-out-ickiness issues that keep me from doing things like reaching into a drain and grabbing out a glob of hair. I kindof want to gag just thinking about that.
Could be a DustBuster, could be an attachment on your big vacuum cleaner. I have a cool vacuum-with-a-strap that came with my Oreck years ago that I love. For a big clean, I like to suck up the dust bunnies into oblivion with that thing before tackling detailed dusting.
I know. I'm I was technically a Swiffer "ambassador" but I'm saying this because I want to. There's really nothing better for quickly, easily, and effectively dealing with dust, grime, and (my very least favorite) hair on hard surfaces. Even walls and ceilings.
The wet versions make bathroom floor cleaning so much easier because I can clean the floor (and walls) behind the toilet without bending down and putting my face near things I don't want my face to be near. I'm also more willing to tackle the nasty stuff when I know I can throw them away.
Want 100 super practical, reality-based strategies for keeping any house under control? Check out my newest book, Organizing for the Rest of Us. 
What are your Helpful Have Cleaning Products for spring cleaning?
--Nony