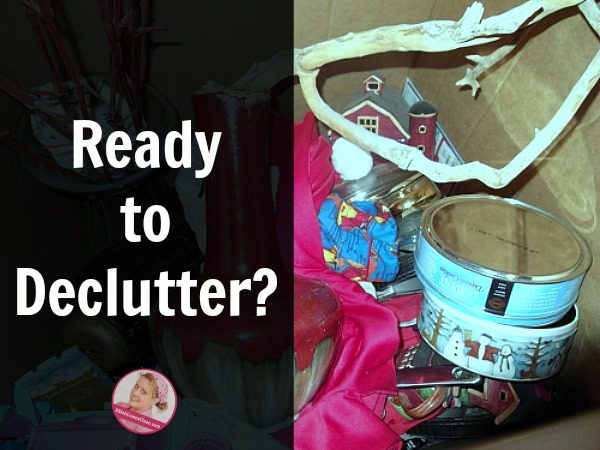 This post contains some referral links! 
I hope you had a WONDERFUL Christmas!
Did you know that today starts the week of Decluttering Mania? Well, it does! I used to think it was just me that got the urge to declutter in January. Now I know that the moment the excitement bringing stuff into the house starts to fade, a frantic desire to get stuff OUT of the house hits.
Because of this lovely decluttering energy, I have some fun things going on here at Decluttering Central.
First of all, I'll be doing live video all this week! I'd love for you to join me. [UPDATE: My week-long live video events happened some time ago, but you can still visit my Facebook page!] I'll be going live on Facebook this Monday through Friday in the mornings AND evenings! (I hope!) You can like my page, and then watch for me to go live! If you miss it, no big deal! You can always watch the replay whenever it is convenient for you.
Second, I have put together a special set of emails called 30 Days of Decluttering Inspiration. You can sign up to have decluttering inspiration (including tips, strategies, and my embarrassing stories) delivered to your inbox every day for the next thirty days (or thirty days from whenever you sign up).
The goal is that you get gentle, non-overwhelming decluttering inspiration every day to keep you inspired for the whole month. 
Go here to sign up for 30 Days of Decluttering Inspiration!
But also, this is an EXCELLENT week to read my book! Do you have it yet? If you got a giftcard for Christmas, you can order How to Manage Your Home Without Losing Your Mind online wherever books are sold! It's been found in many stores as well!
But if you're desperate to read it right now, or even if you just don't feel like getting out of your pajamas, you can download one of the digital versions and start reading immediately. If you have an iPhone, you already have iBooks, so you can get that version. Or did you know that both Kindle and Nook have FREE apps that let you order books and read them right on your phone? Right. You don't actually have to have a Kindle or Nook to read Kindle and Nook books!
Go here: Amazon.com – Read eBooks using the FREE Kindle Reading App on Most Devices
 for the Kindle apps, and here for the Barnes and Noble apps. You can even download a version (definitely for Kindle and I think for Nook) that allows you to read on your desktop computer.
You can also download the audio version to start listening immediately: Go to Nook Audiobooks here or try Audible and Get Two Free Audiobooks
.
Start reading since the strategies in the book will the subjects of my live Facebook discussions.
What are your decluttering plans? I'd love to hear about them in the comments! 
--Nony