See how to get a free printable version of this plan at the end of this post!!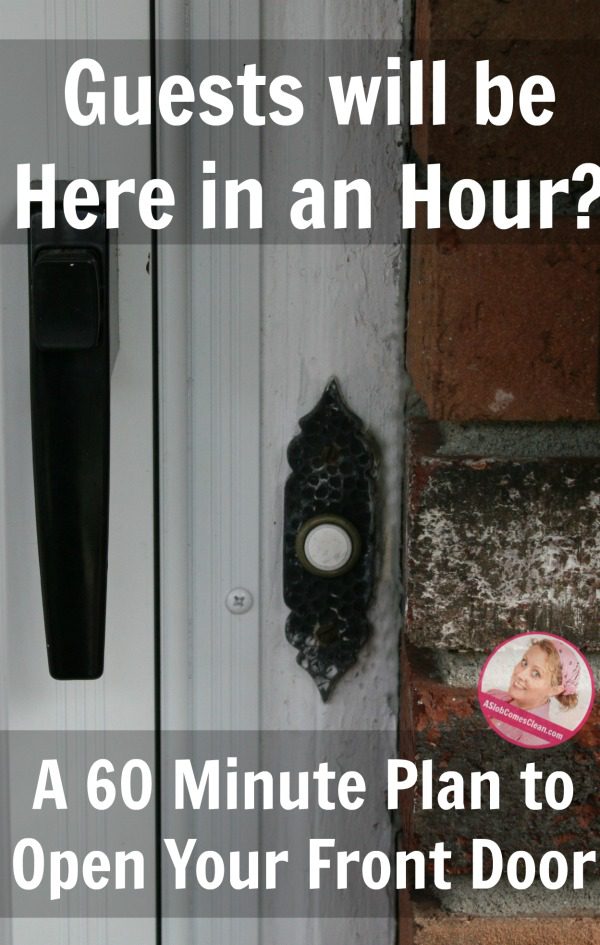 Most important? A reality check. An hour is only 60 minutes, and you can't go from disaster to perfection in that amount of time. But if you focus on the right things, you can make a major impact and be able to do the one thing that matters: enjoy the time with your guests.
Repeat this phrase to yourself over and over for the next hour: Follow the Visibility Rule.
The Visibility Rule is pretty self-explanatory, but does not come naturally to some people (people like me).
What will your guests actually see? Focus your effort there.
This is not the time to sort through the pesky basket of mateless socks that's been bugging you for months.
Head to your front door, stand where your guests will enter, and see what they will see. You haven't noticed that pile of papers on the coffee table because it has been sitting there for months. Seeing your home through the eyes of your guests will keep you on track as you make the most of the next sixty minutes.
Grab your phone. Set the timer to ten minutes.
Over the next hour, start the timer again each time it goes off. Race the timer on each task you tackle. This will help you focus on the task of the moment and keep you from getting lost in one task and forgetting about all you have left to do.
First, pick-up and straighten. A clean house has layers, and the first layer is clutter. Starting at the door where your guests will enter your house, move through the house hitting all the areas they'll see, picking up anything that's out of place. Close the doors to rooms or closets where your guests don't need to go. Don't worry about what's behind those doors, this is not the time to rearrange your linen closet!
If you are generally a put-it-away-right-away kind of person, you can probably put things where they go in these ten minutes. If you're not, and you can't even imagine how ten minutes could make a dent, load up your arms and go dump the junk in whichever room you can lock!
Once those ten minutes are over, reset your timer for another ten minutes and head to the bathroom where you'll direct your guests. Grab cleaning wipes and wipe down the surfaces including a quick wipe of any visible dirt on the floor. Your guests are going to hang out in this room all by themselves with nothing to do but look around, so you want it to be as clean as possible!
Dry your own hands after you're done and then use that now-slightly-damp towel to wipe down the mirror. Put out a fresh handtowel and reset your timer for another ten minutes.
Head for the kitchen. If all you need to do in your kitchen is a quick wipe-it-down-and-straighten, yay for you. If not, your goal is to do whatever needs to be done so you can do a wipe-it-down-and-straighten in the next ten minutes.
Clear surfaces are the goal. Put away what you can, start the dishwasher, and load whatever's left into a box and haul that box to the garage. Or the trunk of your car. Or wherever your guest won't look. Don't shove things in the oven unless you know for a fact that no one is bringing something that needs to "go under the broiler real quick."
This is far from ideal, but an hour to clean the whole house isn't ideal if your kitchen counters are covered in dirty dishes. Watch that timer and try to give yourself the last three minutes to wipe down and shine up your surfaces.
Set your timer for another ten minutes.
Grab the vacuum cleaner and your duster (or a rag, or a clean sock), and head to the room where your guests will spend the most time. There isn't time to thoroughly dust the entire house, but stick with the Visibility Rule. What will your guests definitely see? Dust the TV, the lamps, and the end tables where they'll set their drinks.
There's no time to grab a ladder and dust the ceiling fan. Turn up the heat and turn on the fan. If it's running, no one will be able to see the dust-chunks that have gathered on it in the past few weeks months.
Vacuum the visible parts of the floor (there's no time to move furniture) and move to the next room where your guests will spend time. I know it's tempting to haul out the mop, but there's only time for vacuuming.
If you've been able to stick to your ten minute timers, you have twenty minutes left.
Take ten minutes to focus on you. Change your clothes, fix your hair, and put on some deodorant and lipstick.
For the final ten minutes, go back through the list, checking for things you may have missed before. Walk through the areas your guests will see, checking for clutter. Be sure doors which hide the messy areas are still closed (and locked, if possible). Flush the toilet. Check the kitchen for random dishes that mysteriously appeared while you were focused elsewhere. Put away your duster and vacuum cleaner and fluff the couch pillows. Wipe up that smudge of dirt on the tile by the front door (the smudge that made you think you needed to mop the entire house).
Most of all, before you answer the door, take a deep breath and relax. The people are here, and they matter more than anything else.
Get your free printable plan for cleaning your house in one hour.

Do you have a copy of my book yet? If frantic cleaning sessions like these make you determined to change your everyday ways, this might be the book for you. Find out more here. 
Some of my tips were shared in a great one hour plan in Redbook's November issue!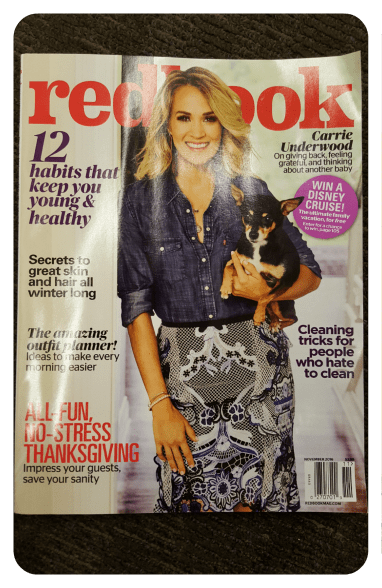 --Nony