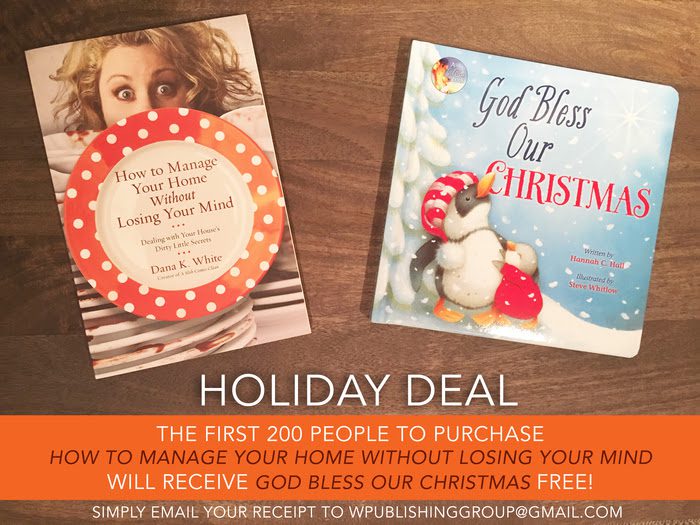 This is fun!
My publisher has arranged for 200 people who purchase How to Manage Your Home Without Losing Your Mind, today, to claim God Bless our Christmas, a cute picture book for kids, for free!
You could knock two gifts off of your Christmas list this way! Or you could give God Bless our Christmas to your child so you can have a little quiet and read for a few minutes.
Please note that the books won't come together. To get the free children's book, you must email your receipt to [email protected] You can order from any where, or purchase it in a store (Barnes and Noble and Mardel and Family Christian Stores have it), and then send a photo of your receipt. Lots of people have been purchasing the book over the past few days, but many haven't sent in their receipt, so there are plenty left for you to claim yours!
The promotion started Monday, so if you haven't purchased yet or want to get another copy for a friend, this is a great time!
Where to purchase:
You can order online at Amazon, Barnes & Noble, Books-a-Million , ChristianBook.com (takes Paypal), iBooks, Walmart, Family Christian Stores (checked a few and some have them in stores), Target, Mardel (order online, or most stores have them) or anywhere books are sold!
Any of the above information is meant only to help you, and may have changed since the time I posted it. Check and double check when you order!
This offer is limited to the Continental U.S. Sorry.
--Nony