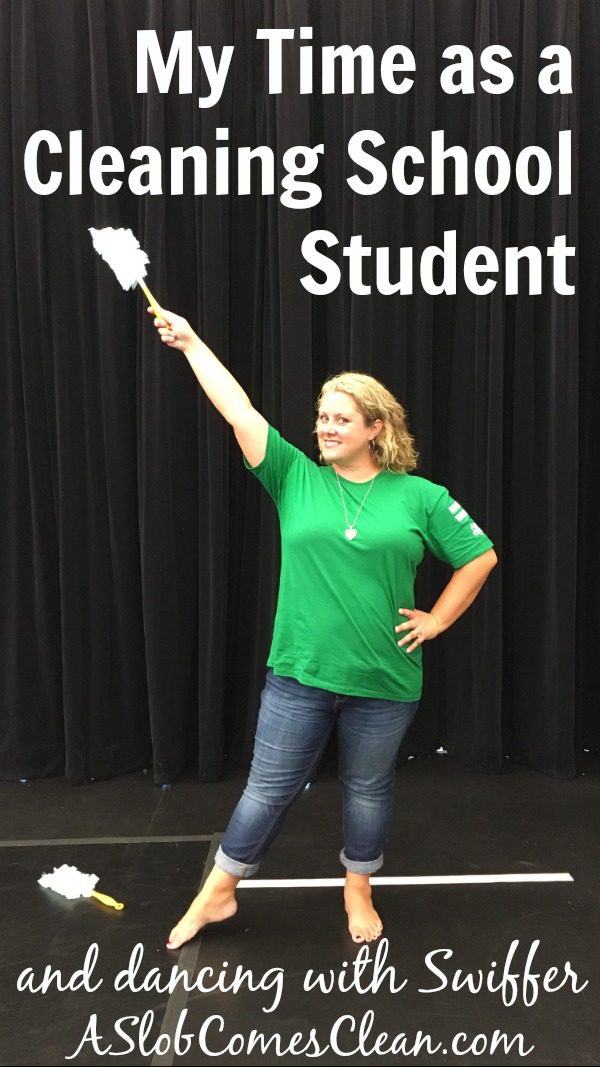 I have renewed my gig as a Swiffer Ambassador for another year!
It wasn't a difficult decision since I love Swiffer, y'all love Swiffer, and they are a very fun company to work with.
As part of the deal, I traveled to New York with this year's other Swiffer fanatics and attended Cleaning School.
Not really, but we did learn about what's going on in the world of cleaning technology and advancement at Swiffer.
A few things that stuck in my memory that will interest you as fellow cleaning nerds:
(Note: you can totally be a cleaning nerd without personally having a perfectly clean home. Obviously . . . )
Some study they referenced showed that expectations/desires for a clean home have changed over the past several years. Now, the majority of people want their home to be an 8 on a scale of 1-10, with ten being absolutely perfect.
This makes so much sense to me. People are busy. I want a clean home, but am fine with a clean enough home. I just want to get it done, be healthy and comfortable, and move on to other things we have going on as a family of five. Swiffer can get your home to a 10, but their commitment to making cleaning quicker and easier and honestly . . . a little more fun fits well with this shifting in the typical person's cleaning goals.
Swiffer is always listening to their customers. I was so impressed hearing all about the science behind Swiffer products when I attended the "immersion program" in 2015, so it was fascinating to hear about all they've been working on over the past year. Some things I can't reveal yet (top secret stuff, y'know), but what got us excited was their improvements to the Swiffer WetJet. The common complaint people had about this product was that it left streak marks on wood floors.
It all comes down to AGM, which stands for Absorbing Gelling Material, which is science proprietary to Swiffer. (Proprietary = no one else can use the material they developed.)
Basically, it's the stuff inside the Wet Jet pads that absorbs liquid and holds it in. So they improved the AGM and added a special purple strip thingy so it locks in the liquid (therefore drying the floor) much more quickly, and that helps eliminate the streaking.
They are not advertising this as "new" because that would involve packaging changes, etc. and their goal was to get it out to the consumer as quickly as possible. Look for the pads with the purple Absorb and Lock Strip.
I learned a lot more, but the trip wasn't all presentations and pencils.
Swiffer is a FUN brand to work with, and they embrace the fun. We watched their history of hilarious commercials that I totally remember seeing over the years. And then we went and had some fun.
Fun, like learning a dance routine from two former Rockettes. We spent an hour to learn a one-minute routine, but it was so so fun.
I'm the one in the middle.
We also got to decorate cakes at Carlo's Bakery, in the same kitchen where many cooking competition shows are held.
The only catch was that we had to clean up our own mess with the Swiffer stuff. My family was quite disappointed that I chose to donate my cake to a nearby shelter instead of bringing it home. Bringing it home on the plane didn't sound the least bit fun to me. 
I didn't get to even taste any since it had chocolate in it and I'm allergic. (Yes. Really.)
I'm excited again to host a giveaway for another Swiffer green box! Just leave a comment on this post (click on the title of the post to get here if you're reading via email), and tell me what kind of floors you have in your home. One comment will be chosen (I'll use random.org to choose a number), and that person will have 48 hours from the time I send them an email to respond with their mailing address. Continental U.S. only. (Sorry!) The giveaway entries will close on October 24, 2016 at 9 p.m. Central time.

Included: Swiffer Sweeper Small Box Starter Kit, Wet refills, Dry refills, Swiffer Duster, Duster refills

Disclosure: I am a paid ambassador for Swiffer!
Fascination with cleaning science is all mine. 
--Nony