You'd better believe this post contains affiliate links!!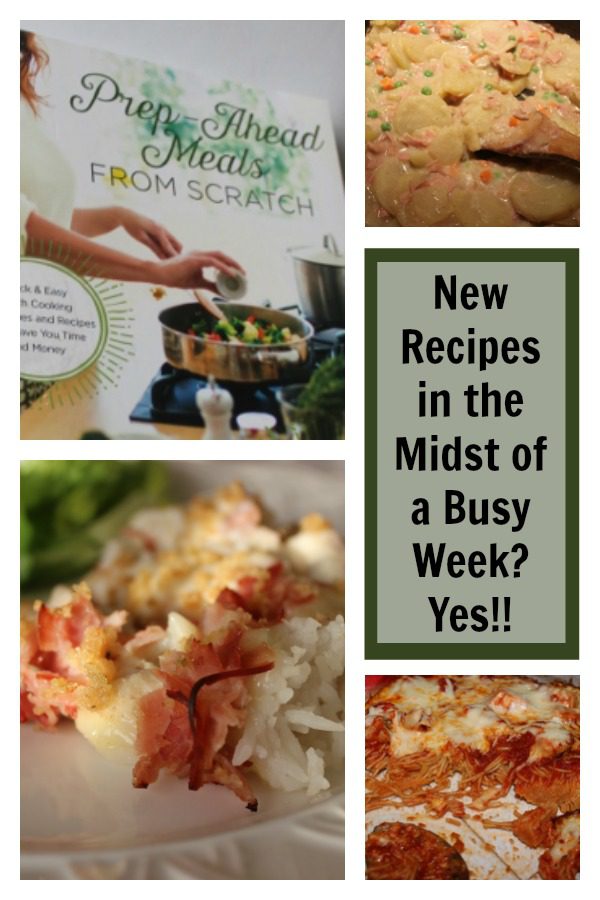 I am so proud of my friend, Alea, of Premeditated Leftovers (<- best blog name ever!), whose cookbook, Prep-Ahead Meals from Scratch, released last month!
I was excited to get my copy, and wanted to make one of the recipes I'm allowed to share in its entirety. Skillet Scalloped Potatoes seemed like the perfect choice.
But then, my potatoes were unexpectedly rather sprouty, so I thought I'd make the recipe that had caught my eye first. Chicken Cordon Bleu Rice Bake.
But then I didn't have any swiss cheese.
So I decided to make Chicken Parmesan Pasta Bake (even though I didn't have the recommended kind of noodle . . . )
Do you see a theme? There are a LOT of recipes in Alea's new book that appeal to me.
But especially, I love the way she cooks. If you've been around a while, you know cooking ingredients ahead of time so I can quickly get home-cooked meals on the table is my kitchen style.
Prep-Ahead Meals from Scratch does exactly that, but takes it to a whole new level. First of all, the book covers how to make almost all ingredients from scratch. Every time broth or spaghetti sauce or seasoning salt is mentioned, there's a page number noted with instructions for making that from scratch as well.
I love that she teaches multiple ways to pre-cook each kind of meat. There are instructions for batch cooking chicken in a slow-cooker, by broiling, by roasting, on the stove top, in a pressure cooker or by baking. And each recipe recommends the batch cooking method which works best for that dish. I'm excited to branch out from my usual methods when I get my next bulk chicken order!
So how did we like the Chicken Parmesan Pasta Bake? It was amazingly easy and turned out great. I loved that it was a different way to use the pre-cooked chicken I had in my freezer. The next night, we tried the Chicken Cordon Bleu Rice Bake, and loved that too!
And then finally, on Monday, I had everything I needed and made the Skillet Scalloped Potatoes with Ham and Peas (and Carrots).
I love scalloped potatoes, but every time the thought occurs to me to make them, I decide they're too much hassle. This recipe promises to be done in 25 minutes and it delivered on that promise. I was truly shocked at how quickly and easily it came together.
Ingredients:

1 tbsp butter

1 cup onion strings (I used dehydrated onion flakes from my pantry)

6 medium red potatoes, thinly sliced (I used russet potatoes)

2/3 cup vegetable broth or water (I used chicken broth)

1 tsp basil (I forgot)

1/4 tsp seasoned salt (recipe is in the book, but I used Aldi brand)

Pinch of pepper (finally, I actually used an exact ingredient)

1 tbsp + 2 tsp cornstarch

1.5 cups milk

1 cup diced ham (I used what we had, which was more than a cup)

1 cup frozen peas, thawed (I put them in frozen, and also put in carrots, since I only had frozen peas and carrots together and didn't want to separate!)

Instructions:

Heat the butter in a large skillet. Add onions and cook over medium heat until onions are tender and just beginning to brown.

Spread the potatoes over the onions.  Pour the  broth over potatoes and cook over medium heat until broth begins to boil, 2-4 minutes.

Lower the heat, sprinkle the spices over the tops of the potatoes, put a lid on the skillet and cook for 5 minutes. After 5 minutes, flip the potatoes over. Cover again and cook until the potatoes are fork-tender, 3 to 5 minutes.

In a small bowl, whisk the cornstarch and 1/4 cup of the milk together. Slowly add the remaining milk while whisking continuously to remove any lumps.

Add the ham, peas, and milk mixture to the potatoes. Cook uncovered over medium-low heat until the sauce thickens and the ham and peas are heated through, approximately 5 minutes.
Did you notice how I seem to be incapable of actually following a recipe?
I tried to get a decent picture of a serving only showing peas, but finally gave up. Here's what it really looked like:
One of my boys came back for another serving after he got home from basketball practice. I'd say that's a success.
What I like most about Prep-Ahead Meals from Scratch by Alea Milham:
I tried three new recipes in the midst of an unbelievably busy week. Three NEW recipes, y'all! They all worked, and they all were as quick and easy as promised, with techniques that were new to me. If you've wanted a detailed guide to making this kind of cooking work for you, this book is perfect! If you (like me) already love this style of pre-cooking ingredients to make it possible to get dinner on the table quickly, this book will help you take that to a new level.
Alea is practical and creative. Pre-cooking ingredients was already my thing, but I really love that the recipes in her book take my beloved cooking style to a new, higher level. I also really appreciate that she gives quick and easy versions of classic recipes that are usually time consuming. I love chicken cordon bleu, and have thought about making it many times. But stuffing and breading chicken isn't something that's going to happen on a typical weeknight around here. Her easy recipe using pre-cooked ingredients let me create the flavors of Chicken Cordon Bleu without any of that hassle.
You can find Prep-Ahead Meals from Scratch wherever books are sold. Or check it out (including the ability to "flip through" the first part of the book) through my Amazon affiliate link here.
Disclosure: I received a review copy of Alea's book.
--Nony