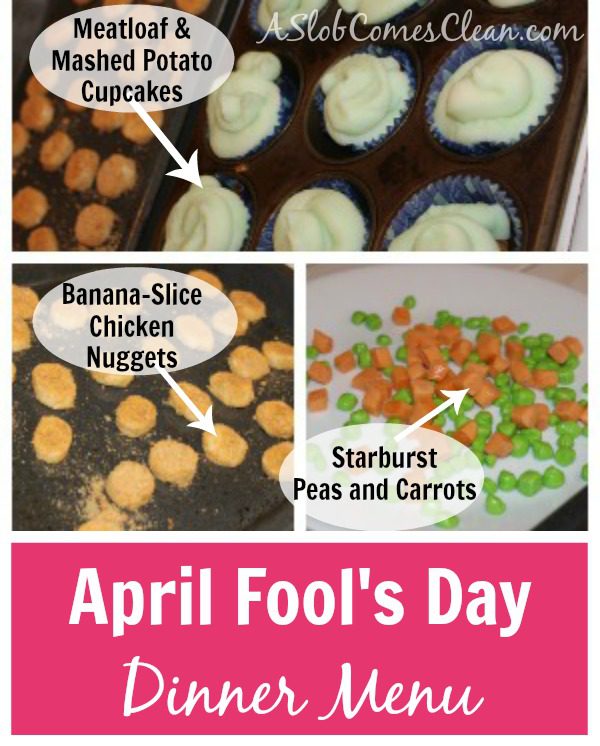 Last year, for the very first time ever, I thought about making a Prank Dinner BEFORE April 2nd.
Go me!
I posted pictures on Facebook, and the response was great, though it was tinged with a little "Ummmm, thanks for the idea NOW THAT IT'S TOO LATE!"
So here I am, remembering to post it at the very end of March.
Again, go me.
Credit must go to FamilyFun Magazine
, where I saw the peas and carrots idea years ago. I googled ideas last year, and saw general ones, but then made up my own versions of everything.
I started the meal by declaring that we were going to eat dessert first. The family was thrilled at this idea.
For dessert, we had cupcakes.
Meatloaf cupcakes.
You can use your favorite meatloaf or mini-meatloaf recipe. My husband claims he despises meatloaf (and I'd say the same), so I just made up a meatloaf-ish recipe. I added bread crumbs, seasoning, an egg, and grated cheese to ground beef and shaped it into meatballs. Then, I made instant mashed potatoes, colored them with green food coloring, and snipped the corner off of a ziploc bag so I could "frost" the tops of the cupcakes after they came out of the oven.
Things I'll do differently this year (now that this is a tradition instead of a prank): I will bake the meatloaf cupcakes without the cupcake liners and then transfer them into the liners. There was quite a bit of grease, so this will allow me to lift them out of the grease and into a clean liner.
Then, we had our veggies:
They looked pretty realistic. My family was totally fooled. The main problem was that there were SO FEW! This was the "dish" that took the longest. A VERY long time. Longer than I expected.
I used orange Starburst candy and green Laffy Taffy. The Starbursts I cut with a sharp knife into four pieces each. I put the Laffy Taffy in the microwave for five to ten seconds and then cut off pieces to roll into peas. That was harder than it sounds.
My family was totally enthralled with this meal at this point. They had LOVED the meatloaf/mashed potato cupcakes. When they found out that the vegetables were actually candy, they cheered. I was a hero.
Best. Mom. Ever.
And then, for dessert, we had chicken nuggets.
I'd looked up ideas that were fairly complicated, but then realized I could simply put graham crackers in the food processor and then dip banana slices in the crumbs.
Don't those look amazingly like chicken nuggets? They really do.
They look TOO much like chicken nuggets.
Even though I was a hero for all my tricky food up to this point, my children were HORRIFIED that these were not "real" chicken nuggets. My daughter (7 at the time), was especially upset. In fact, she cried. Bawled. Hysterically.
Her disappointment was heartbreaking.
Evidently, I NEVER ever serve chicken nuggets. Ever. She was giddy with happiness through the first part of the meal, partly because of her creative mother, but mostly because she was thrilled at the thought of having chicken nuggets. At home. For dinner!
When they weren't actually chicken nuggets (duh!), she was devastated.
Kind of ruined the mood, honestly.
FYI, I did buy some popcorn chicken and served it the next week.
What stunts have you pulled for April Fool's Day at your house?
Podcast (aslobcomesclean-comfeeddailyaudioblog): Play in new window | Download
Subscribe: RSS
Save
--Nony