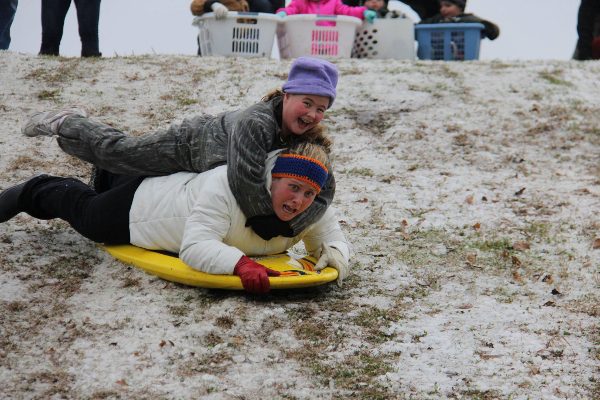 It's 2:20 on Wednesday afternoon, and other than a quick, not-a-real-post on Monday, I haven't blogged this week.
We had "snow" days on Monday and Tuesday, which were really Ice Days. The roads were bad, so school was canceled, but we managed to get out with friends to have a BLAST "sledding" in our laundry baskets.
Today, it actually snowed, but school wasn't canceled.
My 13yo took that pic as I dropped him off, but now there's not a patch of snow to be found. All of it has melted.
So why a post about priorities?
Here are mine:
1. Be mom and wife.
2. Be a blogger.
Basically, I have always been committed to putting life before blogging. I consider my family my life's work.
I've re-committed to that lately. Not that anything has changed, but I've decided to not let my blood pressure rise when blogging gets pushed down the list by Mom Stuff.
Even though blogging (and podcasting, and speaking, and writing e-books, and interacting on social media) is officially my job, if my priorities got out of whack, I'd have to let it go.
I'd prefer not to let it go, so I'm committing to not let it get out of whack.
Sorry if that's confusing, but this hour between getting home from counting money for a school fundraiser (a Mom Thing) and picking up kids from school (another Mom Thing) is going really quickly. I don't have time to blather AND edit.
Basically, these "Snow" Days have been a test of my renewed commitment to stop blogging as needed when Momming throws me a curve ball. It was way more important to watch the fourth Harry Potter movie and work on a Star Wars puzzle and dig out coveralls and mismatched gloves than it was to write.
Here's hoping tomorrow allows for some time to write the posts that have been rolling around in my head.
Oh. And don't forget about the Spring Cleaning Printables Bundle that's going on right now. It's one of the ways I get to call this my job.
Podcast (aslobcomesclean-comfeeddailyaudioblog): Play in new window | Download
Subscribe: RSS
--Nony