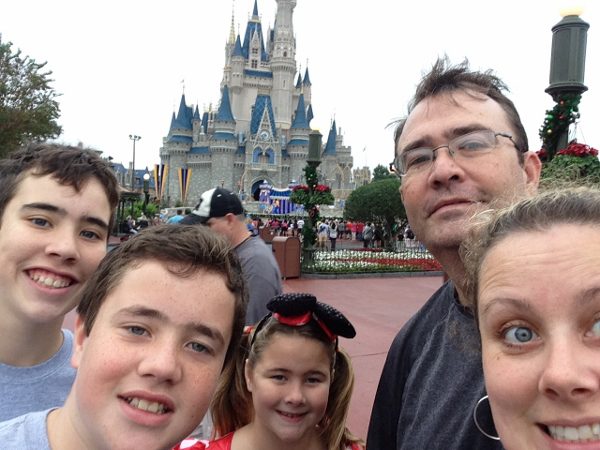 I'm back!
I just spent a fantabulous two weeks focusing on my family and mostly ignoring the internet. I now have a ba-jillion blog post ideas, but thought I'd share about my break first.
If you didn't notice I was gone, it was because I did write some things ahead to schedule for the week after Christmas. Did you know that's my BIGgest week of the entire year here on the site? People go Decluttering Crazy around 7 p.m. on Christmas Day.
A little time off work plus a bunch of new stuff plus putting away Christmas decor plus being stuck inside while it's cold = people being motivated to PURGE.
But I wasn't even in my house on December 26th. Or 27th or 28th or 29th.
We spent Christmas at Disney World.
When I planned the trip back in March, I figured that even though it would be crowded, at least it wouldn't be hot. (We don't have the option of going off-season.) I didn't know that Christmas week through New Year's Day is THE busiest week of the entire year at Disney. But thankfully, my tunnel-vision personality which allows me to NOT see clothes piled on the dresser lets me get great joy from planning out every detail of a family vacation. We never waited more than fifteen minutes in a line and rode every ride we wanted to ride multiple times.
Walking through the master bedroom without tripping? I have to MAKE myself care about that.
Squeezing every last memorable moment and ounce of value out of a family vacation? That's fun. Fun is important to me.
Yes. I have issues.
But now I'm back, and it's time to get my own house back into shape. We did spend the last two days of the break decluttering, putting away Christmas stuff, and cleaning. My house feels ever-so-much more livable.
I'm always amazed at how I can physically feel the lack of the weight of a mess once it's gone. Even though I didn't notice the weight when it was there.
There aren't a ton of pictures from our Clean House Overhaul (minus the master bedroom which I didn't even attempt). I guess I was not in the Slob Blogger Zone.
The main thing I was excited about was getting my gameroom back. My 11yo has decided he's going to be a musician. He saved up to purchase a drum set a few months ago.
For a (long) while, it sat partially assembled/unassembled in the gameroom because the directions were completely useless and no one who lives here has a clue how to set up drums. Then a drummer friend came over and helped us set them up, but they still weren't in the right place because the right place was taken up by a Foosball table.
The Foosball table finally moved (with much grunting and finagling) and it was time to move the drums.
But then, because we'd just decluttered the boys' room, I had another idea.
Imagine my delight when I asked my Drummer Boy if he'd like to put his drum set in his room instead of in the gameroom and he was all for it! Wahoo for one less big thing in the gameroom!
So while the room is far from perfect, there's space. Floor space. Plenty of floor space for my brand new TEENager to have friends over for the night.
(Yes. I'm the mother of a teenager now. Yikes.)
See how there's Bonus Clutter in the picture above? That's what happens when things are in a "temporary" spot. If I'm going to have to deal with that big thing eventually, what's the big deal if this other random stuff stays there a while?
Blech.
After the drumset left:
For real, that picture above is looking pretty fantastic for around here.
After a little moving around:
And that, my friends, is the picture three days later. After a group of smelly boys slept in there. Not bad.
How was your holiday?
P.S. In case you're on Facebook and wonder how I was so "present" there while gone on vacation, my lovely assistant scheduled those ba-jillion posts for me after I told her which links to share and wrote out "blurbs" for each one. That way, all I did was check out your comments and "like" them, with no time pressure to be on the computer.
P.P.S. I'm hoping to catch up on email, blog comment approvals, and facebook messages soon, but it may take a while.
--Nony