(All the links are my Schoola.com referral links. Keep reading to see how to get your own referral link!)

(Please note that the free shipping ends sooner than expected! I've tried to change dates. It now ends on Jan 21st!)
Who likes free stuff? I sure do!
Last month, I shared several sites that allow you to mail in used clothing to be sold online. (By someone else who does all the work!) It's a way to declutter and know that your nicer stuff is going to be valued.
One of the sites was Schoola.com. They are a little different from the others I shared. You do not personally earn money from the sale of the clothes you send. Instead, 40% of the money someone spends to purchase the item you donated goes to the school you choose.
I'll share more details on that, but first I'll explain how for the next two days (January 20-21, 2015) you can get $15 worth of clothing absolutely free on Schoola!!
For these three days only, shipping is free!! When you sign up through a referral link (click here to sign up through mine), you immediately get a $15 credit to spend on Schoola.com. This is new, as you used to have to make a purchase before you got your $15 credit!
The vast majority of items on the site are priced well under $15, so with free shipping, you can get an item (or a few items) completely free!!
Schoola technically only has categories for school-aged children, but because this includes teens, there are actually some adult-sized things. I saw men's jeans up to size 36×34 and several things from Lane Bryant up to size 22. Even if you don't have children, it would be worth it to browse those "High Schoola" categories to see what they have.
So what do you need to do?

1. Go sign up for Schoola.com through my link so you'll get the $15 credit.

2. Shop around and find something (or some things) your family can use and grab them while shipping is free!

3. Get your own "share" link and tell your friends. For each friend who signs up through your link and makes a purchase (including a credit-using, free-shipping one), you get ANOTHER $15 credit.

4. Order a bag to be sent to your home for free to load up with your own family's gently used clothing. When you order, you'll designate a local school to receive 40% of the sales money from the items you donated. Order the bag so you can declutter more clothes than you buy!
Please note: I found the process slightly glitchy, but it worked out in the end. First of all, my credit didn't show up in my account, but when I went to make a purchase, the credit was there and reduced the price of my cart correctly. Second, I selected some items that then were not available when I went to check out. Third, the auto-populating schools listed for my zipcode were out of date. This isn't Schoola's fault, as I find this to be the case on realtor apps and similar things. I'll share below how to fix that.
But first, go do steps 1-3!!! Those are the time-sensitive ones! You only have through the 21st! 
Then, come back here and read through Schoola's answers to some questions I asked them after they gave me the heads up about this FREE SHIPPING event! As an involved mama, I like knowing how these things work.
My First Question:  I see that choices of schools come up when I enter my zipcode. How and when will the school receive the funds? Do they need to specifically set up an account?
Schoola's Answer: The schools will receive checks quarterly, which is 40% of the revenue from the items sold. The checks will continue to come in as the items sell. The more items we can get up there, the bigger the checks will be. If the check is less than $20 we don't send it, but we will combine it and send the check once you reach $20. You don't need to set up an account. As soon as a bag is donated on behalf of your school, we'll have all the info we need to send a check.
My additional wordiness based on my experience:
When you order a bag, you enter your zipcode and are given options of schools in your area. If they aren't correct, email
[email protected]
with your school's name and address to have them correct it. They said, "Right now there's not a way to add your own school yourself if it's not in our database, but that's a great suggestion and something we're looking into, we just want to prevent people setting up schools that don't exist."
That totally makes sense. There are definitely jerks in the world.
My Second Question:  Can private schools participate?
Schoola's answer: Yes, and we'd love them to!
My additional wordiness: I put in some other zipcodes and they listed TONS of private schools. If yours isn't listed, just email them and they'll get it added!
My Third Question: Can I set up a drive for my school? Can I order multiple bags to hand out or do people need to order the bags themselves?

Schoola's Answer: Yes, you can set up a drive. We actually handle these drives differently, and have you send the items back in a box (or multiple boxes) so everything arrives at the same time and can be processed in bulk. We'll send prepaid FedEx labels to put on boxes.
Official Word from Schoola: Free shipping will run from Tuesday, Jan. 20 to Thursday, Jan. 21 at 11:59pm PT. The referral program is available any time, but right now participants will be able to get $15 worth of kids clothes completely for free.
Click here to sign up through my referral link!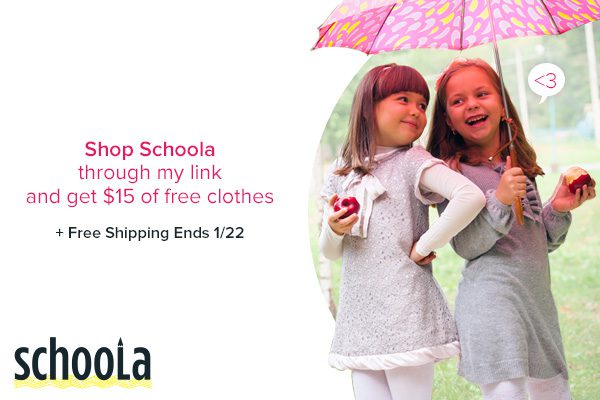 So did you get something totally free yet while there's free shipping?? Did you order a bag so you can clean out your own closet and benefit your kids' (or your grandkids') school?
--Nony