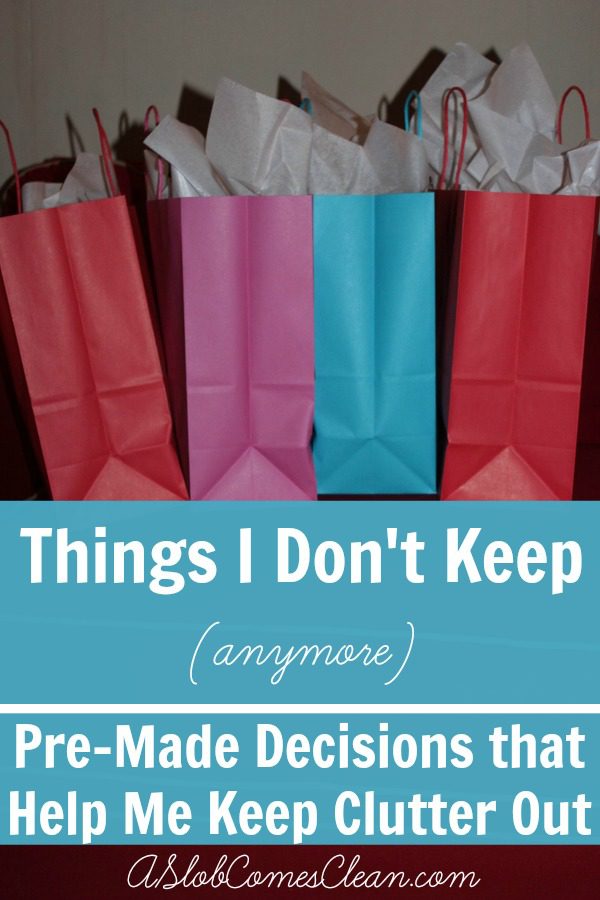 I made this decision a long time ago and have never regretted it.
Almost never.
There may have been a few times when I thought about regretting it, but then didn't.
Don't worry! I'm NOT talking about gift bags. Of course I keep and re-use those!!
I'm talking about the tissue in gift bags.
I used to keep it. I couldn't imagine not keeping it. But then, I started to notice that every time I re-used tissue, I spent way too much time looking for the least wrinkled, least obviously used pieces.
I also noticed how much I sneezed.
The sneezing sealed the deal for me. As someone who fails to retain her natural beauty when she has an allergy attack, I try to stay away from things that are guaranteed allergy triggers.
Yes, there have been a few times when I had to pilfer a sheet of tissue from a friend's overly-tissued gift at a party. (With her permission, of course!) But generally, I've never missed having stacks of carefully-folded-but-still-unavoidably-wrinkly paper.
I try to buy the large packages of white tissue whenever I need/remember to buy some, and white goes with almost any color bag.
What do you NOT keep?
Here are some other pre-made "don't keep" decisions that make my life better (and my house less cluttered)!
Used Gift Cards, Holey Socks, Freebie Cups
My newest book, Decluttering at the Speed of Life wherever books are sold!
Save
Save
Save
--Nony